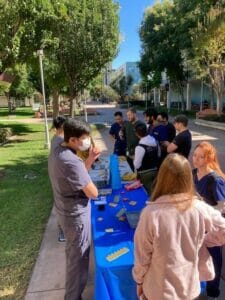 Western University of Health Sciences celebrated One Health Day with a panel discussion and student-led events.
The Centers for Disease Control and Prevention definition of One Health is: "a collaborative, multisectoral, and transdisciplinary approach — working at the local, regional, national, and global levels — with the goal of achieving optimal health outcomes recognizing the interconnection between people, animals, plants, and their shared environment."
The WesternU chapter of the Student American Veterinary Medical Association (SAVMA) provided information, trivia games and prizes centered on One Health on Nov. 3. The student-organized SAVMA One Health Symposium on Nov. 7 featured WesternU College of Veterinary Medicine (CVM) Interim Dean John Tegzes, MA, VMD, Dipl. ABVT, Christi Calhoun, PhD, Head of Food Chain Relations at Zoetis, and Marissa Horton, DVM, from Zoetis.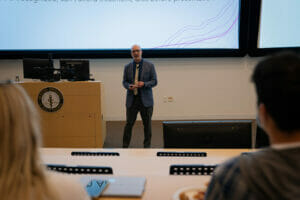 "Our main goal for this symposium is to bring awareness to the One Health approach. It is important as students and future doctors to understand how to look at our patients and the world we practice in through the mindset that humans, animals, and the environment are interconnected," said CVM student and SAVMA Public Health Committee 2025 Co-chair Courtney Miller. "We hope that attendees of the symposium are educated on the importance of One Health. We hope to educate students and faculty throughout the university and educate others on the importance of recognizing One Health and how we can work together to better health outcomes for humans, animals, and the environment that they share."
It is important for veterinarians and veterinary students alike to understand and promote the idea of One Health, Miller said.
"As veterinary professionals, we have a wide scope of practice that involves food animal care, zoonotic diseases, and working in a clinic with the public on a daily basis," she said. "Through all aspects of the veterinary field it is critical that we keep the One Health approach in mind and think about how animals, humans, and the environment are connected."
WesternU's College of Veterinary Medicine and Office of the Vice President for Research and Biotechnology presented its One Health Day Panel program Friday, Nov. 4, 2022, in the Health Education Center at WesternU California, streamed live to WesternU Oregon.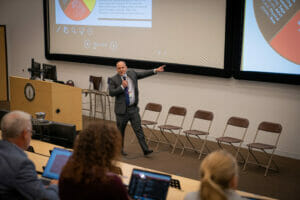 Bradley Henson, DDS, PhD, Interim Vice President for Research and Biotechnology, said he is not an expert in One Health, but he is becoming a disciple of the concept.
"I have no doubt that an expansion of the One Health philosophy would help us solve some of the world's greatest environmental and health challenges and I would love to see this concept grow and am really proud to be part of this institution," Henson said. "This institution is a leader of the One Health concept. I've had a lot of individual conversations with many of you who work in this sphere and I'm blown away. I would love to see expansion of the One Health research profile and concepts here at WesternU and hopefully beyond."
Three keynote presenters created video presentations for WesternU's One Health Day event: Deborah Thomson, DVM, chair of the World Veterinary Association One Health Education Subgroup, Barbara Natterson-Horowitz, MD, a cardiologist and evolutionary biologist on the faculty of Harvard Medical School, and Cheryl Stroud, DVM, PhD, Executive Director of the One Health Commission.
"Become a One Health champion. Join us in this work. We're putting systems in place where we're not using humans as sentinels. We're finding ways to address climate change and antimicrobial resistance," Stroud said. "And remember that these collaborations that we need are going to start with relationships. They are not magically going to happen in our current systems. We're going to have to go out of our way to try to cultivate them. It might require us getting out of our comfort zone. One Health is a powerful solution for today's challenges."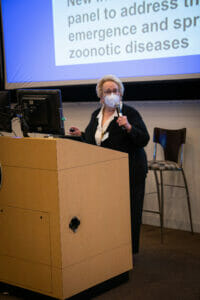 CVM Professor Tracey McNamara, DVM, DACVP, provided an update on her work with U.S. Sen. Kirsten Gillibrand on the One Health Security Act, which Gillibrand announced in October 2022. McNamara said she pulled together a team of 14 subject matter experts representing plants and ecosystem, animal health, and the security sectors that have always been left out. They spent a year and a half every Monday on Zoom calls working on this legislation.
"With all the expertise these people brought to bear, we were able to address all the roadblocks that made it so hard to operationalize One Health in the United States," McNamara said. "We're going to create a One Health Security Council. We're going to put it at the level of the White House on the National Security Council."
The funding would be: $55 million in 2023, $500 million in 2024, and then $900 million each subsequent year.
"We have had lots of endorsements and our bill aligns beautifully with the recently released national defense strategy. We continue to work on gaining endorsements," McNamara said. "It goes beyond an all-of-government approach. It takes a whole-of-society approach, not just federal agencies but local hospitals, universities, the whole enchilada."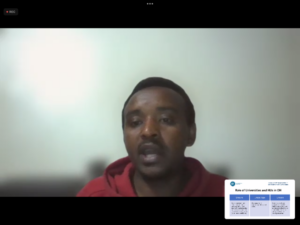 Dr. Emmanuel Irimaso from the University of Rwanda connected live to talk about "Rwanda's Success in the OH Field." CVM faculty members Drs. Malika Kachani, Manel Lopez-Bejar, Annika Linde, and Sheema Mir also gave presentations, which are available to view in the video above. Due to technical difficulties, the introduction and Dr. McNamara's presentation are not included in this video.
CVM Professor Suzana Tklacic, DVM, PhD, who was the main organizer of the panel program, said the WesternU One Health Day activities put the University on the world map of One Health-related events through the One Health Commission web page.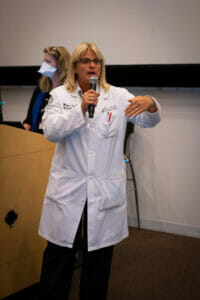 "Students are now for the second time involved in on-campus activities and provide us with a great synergy towards the same goal. CVM already has formed a One Health Research Interest Group, chaired by myself and Dr. McNamara," Tkalcic said. "My goal is to take it now to the WesternU level and to create a 'WesternU Center for Comparative Medicine and One Health.' I am sure we have a core faculty for that and securing the funds to make it operational will follow.
"I wish to thank all of my colleagues, students and all faculty and staff that was involved, supported or followed this year's events. SGA, Pumerantz Library, CETL and everyone else," Tkalcic said. "However, this is just a beginning and a small drop that should create a bigger wave. More work is ahead of us and we already need to start planning for next year's events. I am also looking at student clubs at Pomona and Lebanon campuses to take the initiative on their end. Full steam ahead, folks, full steam ahead!"
Categories: