WesternU celebrates more than 900 graduates at five Commencement ceremonies
Commencement is a time to celebrate a new chapter in the lives of Western University of Health Sciences graduates. The five ceremonies held at the Pasadena Civic Auditorium May 17-19, 2023 also included inspiring speeches, milestone moments, heartfelt tributes, and a passing of the mace.
WesternU conferred degrees upon more than 900 graduates in Pasadena, California, and combined with the COMP-Northwest Commencement ceremony on May 26 in Lebanon, Oregon, WesternU now has more than 20,600 alumni. The Graduate College of Biomedical Sciences and College of Health Sciences ceremony on May 17 included two milestones: the 20,000th WesternU graduate, Helen Ray Wrinkle, MSPA '23, and the 2,000th Physician Assistant graduate, Daae Alexis Cantu, MSPA '23.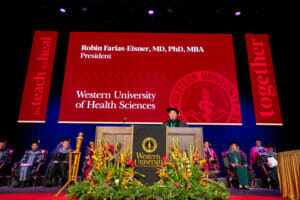 The ceremonies were presided over by WesternU President Robin Farias-Eisner, MD, PhD, MBA. He told the graduates that WesternU's ethos of humanism will significantly impact the lives of those they serve.
"From the very outset of your unique education you have been steeped in the holistic approach to patient care, with a focus on the interconnectedness of mind, body and spirit," Farias-Eisner said. "As you venture forth into your chosen fields, remember to always consider the whole patient, recognizing that the best care is not just about treating symptoms, but understanding the underlying causes and addressing them with compassion and empathy."
Humanism is a commitment to treat everyone with dignity, respect and kindness. It's the understanding that our patients are more than a collection of symptoms. They are a complex being with their own stories, struggles and triumphs, Farias-Eisner said.
"By embracing humanism, you will forge a strong connection with your patients, empowering them to be active participants in their own care and in their own healing process. As WesternU-trained clinicians, you are truly unique and you truly have a unique skill set to offer the world," he said. "You have been trained to appreciate the body's innate ability to heal itself. This philosophy extends beyond the physical realm and into the emotional and spiritual aspects of our patients' lives. As healers, it is crucial to recognize the power of empathetic listening and genuine connection. In times of uncertainty and vulnerability, your presence and your understanding can be the balm that heals the soul as much as the body."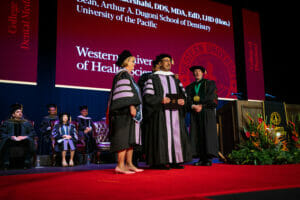 The keynote speakers emphasized that these graduates have unique gifts to offer their patients. Nader Nadershahi, DDS, MDA, EdD, Dean of the Arthur A. Dugoni School of Dentistry at University of the Pacific, encouraged College of Dental Medicine and College of Pharmacy graduates to lean into their humanity. Artificial intelligence (AI) is developing rapidly, but it cannot replace the human touch.
"AI cannot predict or know the impact that my mother had on me, and my values as a person, as a doctor, and as a teacher. It could not understand the depths of what I felt while losing her to cancer and how that impacts every single one of my personal interactions today," Nadershahi said. "We can and must lean into our humanity to care for our patients. We are fortunate to live in a time when we have access to tools, technologies and therapeutics that will help us be better in serving our communities, but we can only do that through our humanity, through the diverse experiences and backgrounds that make each of us unique."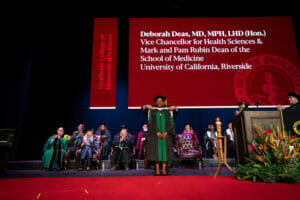 UC Riverside Vice Chancellor for Health Sciences, the Mark and Pam Rubin Dean of the School of Medicine, and Professor of Psychiatry Deborah Deas, MD, MPH, told College of Health Sciences and Graduate College of Biomedical Sciences graduates that they will be tasked with planning and executing change that benefits individuals and communities, all for the greater good of society.
"Doing these moments, I want you to reflect on your personal motivations for entering your selected health care profession. What were the primary drivers that led you into the health professional field in first the place?" Deas said. "As you consider your pathway and academic training you received at WesternU, hold on to those core values that you adopted while here, and let them be the foundation that supports you and keeps you steady through the everchanging times."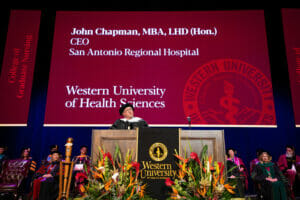 College of Graduate Nursing and College of Optometry keynote speaker John Chapman, MBA, CEO of San Antonio Regional Hospital, said the COVID-19 pandemic resulted in burnout and negative mental health repercussions among health care workers. But he also witnessed resilience.
"The most important thing I learned is that we are not born with a certain amount of resilience. It's learned. It's a muscle and that means we can build it. We build resilience into the people we love and we build it together as a community. That's called collective resilience. That's what I witnessed, and it was an incredibly powerful force," Chapman said. "It is in our relationships with each other that we find our will to love, our capacity to live, our ability to continue and our ability to bring change into the world. Class of 2023, you are especially built and are particularly suited to the task of building collective resilience because you are graduating from WesternU. Communities like this don't just happen. They are formed and strengthened by people coming together in very specific ways. You've been part of that here, whether you knew it or not. As you go off and become leaders, you can make the communities you join, the communities you care for, stronger."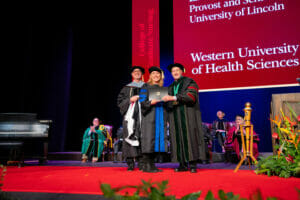 University of Lincoln Provost and Senior Vice Chancellor Liz Mossop, BVM&S, PhD, gave College of Veterinary Medicine graduates three pieces of advice.
"Build your resilience from those around you and those things that mean being a vet is part of you but not all of you," Mossop said. "You are human. You will make mistakes. Forgiving yourself is often the hardest part. Above all, be kind. Kindness is the currency of our souls and civility saves lives. You can and you will do anything you put your mind to. Good luck and welcome to the best profession in the world."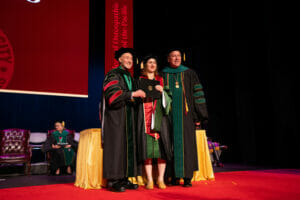 College of Osteopathic Medicine of the Pacific and College of Podiatric Medicine keynote speaker Gary Hall Jr., a 10-time Olympic medalist in swimming, also provided words of encouragement. Among his many roles, Hall Jr. teaches children how to swim. A lot of kids come in with a fear of water. His goal is to displace that fear with confidence.
"There is a light-bulb moment that happens when they realize they can do it. They can swim. The expressions on their face change. It's magical in that moment. More powerful than standing on top of a box with a medal around your neck," Hall Jr. said. "There is a similar moment happening here today. Right now. Right here in this room. You can do this. You're ready. You're going to go out there and change the world. You're going to help a lot of people. Do it with care. Do it with kindness. Stay humble. Keep a smile on your face. Don't give up. Mentor someone and have fun."
WesternU invited one student from each academic program to serve as a graduate speaker. They were nominated and voted on by their classmates.
CDM graduate Seraphina Elizabeth Oney, DMD '23, said her class entered their program knowing dental school might be hard, but they did not anticipate a global pandemic that would prevent them from being together as a class for a year.
"We scrambled as the world did to adapt to a new normalcy during a pandemic and yet we persevered. We pivoted to online learning and when we first entered clinic we worked hard to adapt to a new atmosphere while treating real patients for the first time," Oney said. "In that time, I have seen my classmates grow as leaders, publishing research and attending conferences, applying and getting accepted to amazing residencies, and working together as a class to achieve this goal today becoming a Doctor of Dental Medicine. It has been a privilege to be a part of the DMD Class of 2023. To my classmates, be brave as you start off in your careers, don't be afraid to ask for help, and remember that the hardest moments won't define you as a clinician. Strive to be a lifelong learner."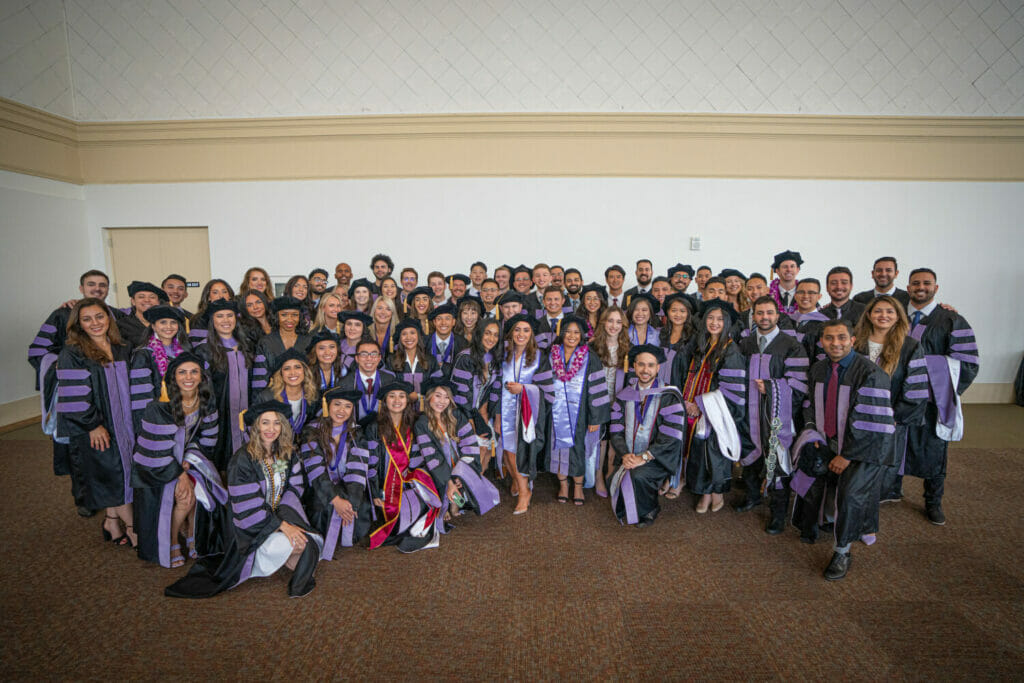 COMP honored the memory of student Sumeet Brar, who will be posthumously awarded his DO degree in May 2024. The College of Pharmacy bestowed a posthumous PharmD degree upon Sripriya "Priya" Upadhyayula Patel, a member of the Class of 2023. Her family accepted the degree on her behalf.
The COP Class of 2023 were only together a few months before transitioning to virtual classes due to the COVID-19 pandemic, but it provided the foundation to find strength in one another, said COP graduate speaker Claudia Ann Verzosa, PharmD '23.
"We were determined to do our part in fighting this pandemic, and our resilience made us stronger. Not only did that unite us, but our class relied on one another for support when we lost one of our own, Dr. Priya Patel, who we all miss very dearly," Verzosa said. "But I know that Priya would be extremely proud of us today as we graduate as committed and compassionate pharmacists. We have shown that we are not just a class, but a true 'Pharm-ily.' Once again, I want to congratulate my fellow graduates and wish you all the best in your future careers. Let us continue to support one another as we strive to pursue making an impact on the world."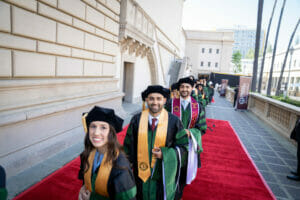 CPM graduate Katherine Lucia Gutierrez, DPM '23, said each graduate has poured their love, tears, sweat, and heartache into becoming doctors.
"Today we celebrate the achievement of a lifetime, a step into the future that awaits us as podiatric and osteopathic physicians, as healers," she said. "We honor those who stood with us through this journey. We honor those who have passed along the way. To the memory of what it was and the hope of what it is to be, smile. Be as proud of yourself as I am of you. My friends, it has been a great honor to go on this journey with you. Congratulations Class of 2023. Job well done."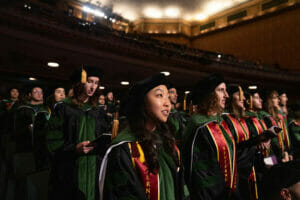 COMP graduate David Patrick Ashley, DO '23, said this class has endured the COVID-19 pandemic, wildfires, and the fight for social and racial justice.
"We were able to grapple with these complex problems academically before we started our rotations. We were prepared to meet and address these challenges head on, and we will be prepared to meet any challenge we face throughout our careers," he said. "We cannot allow ourselves to become jaded by challenges though. Instead, we must lean into them. Continue to learn. Not just medicine, but about the context of how our patients present to us. Remember that every patient is a person, and remember to recognize your own humanity as well. While the events of the future are uncertain, here's one thing that I do know. Each and every one of you are going to be an outstanding physician."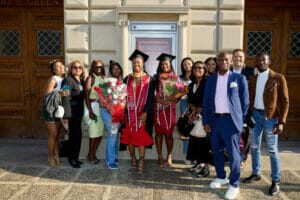 College of Graduate Nursing graduate Fareshta Waheed, MSN-E '23, said nursing is an art where your head, heart and passion must align with your purpose.
"From our holistic approach of care to our humility in serving others, who we are and what we do matters. As WesternU alumni we are proud to be different," Waheed said. "As future advocates and educators our patients are our priority, but so are we. Remember to make time to find the balance of living. Find what feeds your soul."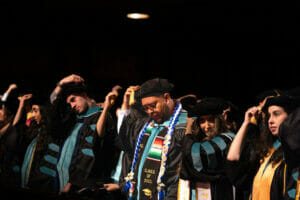 College of Optometry graduate Thao Minh-Tran Ngo, OD '23, said the journey to reach this point was far and long and filled with lots of laughter and tears.
"So many memories were created in these past four years, like staying in HEC to study until the cleaning crew kicked us out, carrying multiple bags of equipment around campus, and just hanging out with our cohorts," Ngo said. "Whether it was a beach day or a study day, being around you all brought a sense of family truly a support system like no other. And this is just the beginning."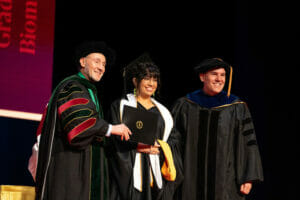 Graduate College of Biomedical Sciences graduate Veronica Anne Mata-Pacheco, MSBS '23, said she and her classmates had the opportunity to delve into the intricacies of what it means to conduct research over the past two years.
"Although we have different areas of interest in our research, I think we can agree on one thing – protocols change," Mata-Pacheco said. "Such as in life, in order to be successful in the lab, we need be fluid and adaptable to when things don't go as we planned. The results may vary, however how we choose to respond is up to us. Fellow graduates, in our lives we will inevitably have missteps, even if we follow the protocol precisely and we did everything right. When this happens, we need to give ourselves the grace to be deliberate and move with intention. For today, let's take satisfaction for when things go right and let's celebrate what we have achieved."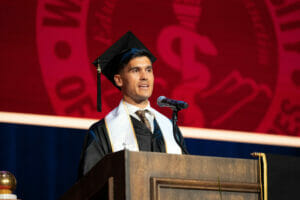 College of Health Sciences graduate Albert Heisler Lanzillo, MSPA '23, invited everyone to take 10 seconds to think about "the people who helped you become who you are."
"Whomever you have been thinking about, they must be so pleased to know the difference you feel they've made," he said. "I'd like to remind each of my classmates that we are not just graduating today. We are stepping into a role that has the power to shape the course of someone else's life. So let us be the ones who are thought of in these moments, remembered not only for what we accomplished today, but for the countless lives we touched and transformed in the years to come."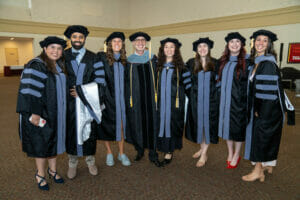 College of Veterinary Medicine graduate Alexis Allen, DVM '23, said prior to the ceremony that reaching this point felt a little unreal. She ultimately wants to specialize in emergency medicine.
"I like the unpredictability of it, never knowing what is going to come in the door," Allen said. "You have to be quick on your feet. And you see interesting cases."
When crossing the stage, she will hear the title "doctor" in front of her name for the first time.
"I think it will take some getting used to," Allen said. "We worked hard to get here, so it will be nice to hear."
The COMP and CPM ceremony opened with a special rite of passage involving one of the University's foundational roles. The University Marshal leads the procession that opens every Commencement ceremony and symbolizes the spirit of the University.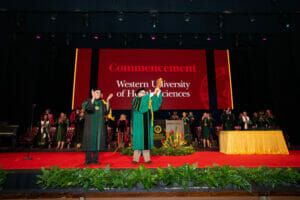 Dr. Alan Cundari has served as University Marshal since 2009. On May 17, he passed the mace to WesternU's fifth University Marshal, Gerald Thrush, PhD, COMP and COMP-Northwest Vice Dean for Academic Affairs.
President Farias-Eisner and WesternU Provost Paula Crone, DO '92, presented Dr. Cundari with a gift on behalf of the University in gratitude for his many years of exemplary service as he transitions into the role of University Marshal Emeritus.
"Like his predecessors, Dr. Thrush embodies all that makes WesternU special. He is deeply committed to our mission of humanistic care for all. He is a mentor, friend, and sounding board for countless students, faculty, and staff. And he lives a life devoted to service, institutional excellence, and professional achievement," Farias-Eisner said. "I would like to formally introduce Dr. Gerald Thrush as our new University Marshal."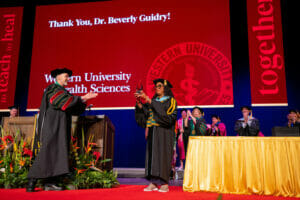 The final ceremony in Pasadena for the College of Veterinary Medicine included a special presentation to WesternU Senior Vice President for University Student Affairs Beverly Guidry, EdD, who leads the University Commencement Committee. Dr. Guidry joined WesternU in September 1982 as an admissions recruiter. The only WesternU Commencement ceremony she has missed was the first one held in May 1982, before she joined WesternU. Her recognition prompted an extended standing ovation.
"She has planned, always, with exquisite and excellent taste, immaculate attention to details and always inspirational in her leadership. And we will never step out of line because Dr. Guidry would not be happy, and we do not mess with Dr. Guidry," Farias-Eisner said. "Her ceremonies have always been special. She has always put the students and families first. Dr. Guidry, you are a shining star, and we are forever grateful for your dedication, loyalty and overwhelming support. Please accept this award, with our deepest appreciation for your amazing 40 years of outstanding contribution and coordination of our University Commencement exercises."
One tradition that made a welcome return is family hooding, where the graduate invites one or two people to join them onstage to place the academic hood on their shoulders.
Phil Manson, the father of CVM graduate Frederick Manson, said his son has wanted to become a veterinarian since the age of 8. Finding WesternU CVM has been a revelation.
"It's been a wonderful experience for him. There is so much hands-on training. They're not just sitting in a classroom. They're out doing things," Manson said.
Frederick is well-spoken, attentive, and he wants to listen to the patient, Phil Manson said.
"I just couldn't be more proud of him," Manson said. "It's the perfect field for him."
Ellen Lee sat in the balcony in preparation for hooding her son, College of Pharmacy graduate Christian Justin Medina Lee, PharmD '23.
"It's a privilege as a parent to see your son pursue his goal," she said. "The greatest achievement as parents is seeing our son walking down the aisle for their Doctor of Pharmacy."