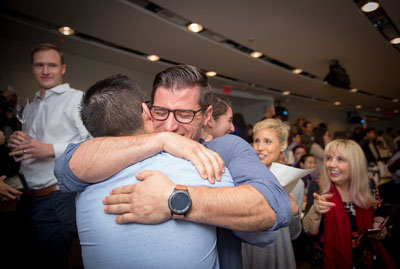 Four years of hard work comes down to one moment, one envelope. Inside is a dream realized.
Western University of Health Sciences' College of Osteopathic Medicine of the Pacific held Match Day celebrations on its Pomona, California and Lebanon, Oregon campuses March 16, 2018. COMP students joined other medical students across the country in learning where their residency match would take them.
COMP Dean Paula Crone, DO '92, offered a "pre-toast" to students prior to the opening of their match envelopes. She reminded them that at the end of every action is a patient.
"May you embrace your destination wherever your match may be taking you. Know that you are needed where you are going and that you are going where you are meant to be," Crone said. "Know that you'll always have a home with us no matter where you go in the future. We are all so proud of you and we are all so proud of your accomplishments already. Congratulations Class of 2018."
When the clock struck 9 a.m., the students opened envelopes containing their residency locations. Hugs, tears of joy and selfies followed.
Fourth-year COMP student Lauren Van Woy was happy to match into her first choice – an emergency medicine residency at Kaiser San Diego, where her fiancé is already a resident and where her family lives.
When applying for residencies, it's important to apply broadly, she said, and to keep an open mind during interviews and learn more about different programs and what they have to offer. During those few months, students will find what they're looking for and should follow their hearts when ranking programs.
"Go with what makes you happy," she said. "Ultimately, it's your life."
Van Woy has been interested in emergency medicine since working as an ER scribe prior to attending medical school.
"You get to treat the people that need it the most," she said. "You see everyone, no matter if they have health insurance. You feel like you're really helping people."
COMP is once again producing a large number of primary care physicians: 121 of the 207 students (58 percent) who matched in Pomona as of March 18 are going into primary care, which includes internal medicine, family medicine, pediatrics, and OB-GYN. A total of 102 COMP-Northwest students participated in the Match, and more than half (55) landed programs in primary care. 
After the students opened their envelopes, they were invited to the front of the lecture hall to announce their name, specialty residency program and location. Their information was pinned to an electronic map displayed on the lecture hall screens.
Medical residency programs can range from three to seven years, depending on the specialty. For example, family practice is three years, while neurosurgery is seven. Following residency, physicians can set up practices in their community of choice.
COMP Vice Dean David Connett, DO '84, said he stood before this class four years ago and asked them, "What is it you're going to do when you grow up?"
"That question was answered today," he said. "For the rest of your career, based on what happens today forward, every graduate will be saving lives. Very few other graduate ceremonies can say that."
Fourth-year COMP student Sheila Attaie, DO '18, said she has wanted to become a doctor since she was 10 years old. From cradle to grave, her family doctor took care of her entire family, and helped them through a difficult time, she said. She matched into a family medicine residency at UC Davis.
The matching process was fun, she said. She met a lot of amazing, inspiring people, but ultimately wanted to go home.
"I felt I could have the strongest connection to the community where I grew up and where my parents live," Attaie said. "When my parents and family get sick, they go to UC Davis. No one is going to care more than the people who grew up there. This is the actualization of the dream I have had since I was 10."