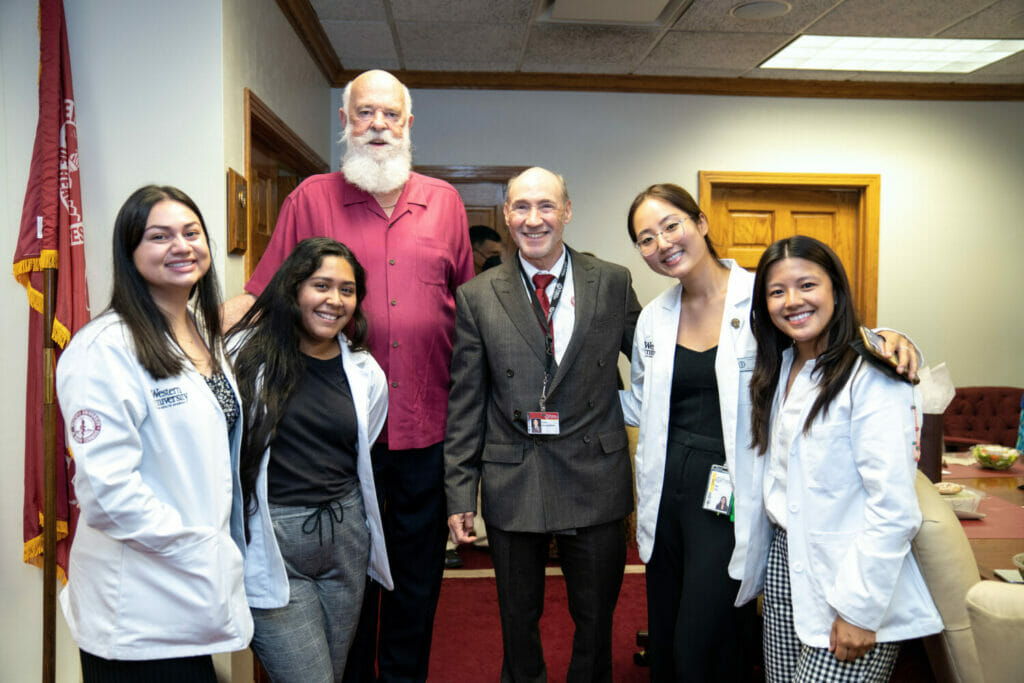 Five impressive and inspiring Western University of Health Sciences students are the first to receive "life-changing" WesternU Board of Trustees scholarships.
The WesternU Board of Trustees created a $6 million endowed scholarship earlier this year to help remove financial barriers for students from lower socio-economic backgrounds and increase student diversity in graduate health sciences and the health professions workforce.
The inaugural Trustee Scholars are:
Martin Allums, College of Osteopathic Medicine of the Pacific – Northwest
Allison Belaunde, College of Veterinary Medicine
Tenzin Choedon, College of Optometry
Hye (Hanna) Chu, College of Health Sciences, Physician Assistant Studies
Dámaris Abigail Garza, College of Graduate Nursing, MSN-E program
These students will receive a collective total of $401,800 from the Trustee Scholarship program during their years at WesternU. They will also participate in a Scholar Success Program throughout their time at WesternU to help them thrive.
Four of the scholarship recipients met in the Saul Bernat Boardroom on WesternU's Pomona campus for a luncheon Aug. 10, 2022, along with WesternU dignitaries including Board of Trustees Secretary John Forbing, who has served on the board for 30 years. COMP-Northwest Trustee Scholar Martin Allums video linked live from WesternU's Lebanon, Oregon campus along with COMP-Northwest dignitaries.
"It is an honor, a pleasure, and a privilege to welcome you to WesternU, and to be celebrating this exciting inaugural event with you today," said WesternU President Robin Farias-Eisner, MD, PhD, MBA. "You are making history not only as the first Trustee Scholars, but as future leaders and pioneers in your respective disciplines."
This Trustee Scholarship is life changing, said WesternU Interim Provost and Chief Academic Officer Paula M. Crone, DO '92.
"The ripple effects that this scholarship can have on the young lives that are in front of us and on the screen, on their families and on all those communities and all of those patients that they will interact with and change in the future," Crone said. "This Trustee Scholarship is a big deal for WesternU and it's the foundation of so many good things to come as we move forward."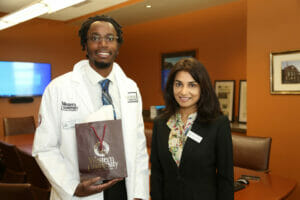 A resounding theme throughout the scholarship applications was the impact this scholarship will make in the students' lives and on the communities they serve, Crone said. The students had the opportunity to express their gratitude and react to receiving this scholarship.
"This scholarship means a lot to me," Allums said. "For the first time, I'm able to focus on my studies without having to work. And that means a lot because I have had to work ever since high school. I want to thank you all for giving me this opportunity."
College of Veterinary Medicine student Allison Belaunde said she worked two part-time jobs while going to school full time to support herself and her mom.
"I'm extremely humbled and grateful for this opportunity," she said. "I never thought somebody like me – first generation, low income – would be doing something so big like this. Seven-year-old me just can't believe this is happening. I'm extremely grateful that I have the opportunity to be here today."
College of Graduate Nursing student Dámaris Abigail Garza said she is thankful for the generosity and blessed to have been selected as one of the recipients.
"As a first-generation college student, this means so much to not only me but to my family," she said. "My parents were overjoyed and probably cried more than I did when I got the (acceptance) letter."
These Trustee Scholars are blazing the trail, and they will serve as ambassadors for both the scholarship program and the University, Farias-Eisner said.
"Health equity is important to us. What is also important to us is humanism and compassion. Diversity, inclusion, equality, and anti-racism. These are all very important concepts that we believe, and we want to live. You can consider us always wanting to practice what we preach," Farias-Eisner said. "Not only is this life changing for us, but we believe that there is tremendous talent like yourselves in communities that are first generation and underserved that haven't had the opportunity. All these brilliant minds haven't had the opportunity because they haven't been afforded the financial support to make this possible. That is what we're trying to do with this very important, pioneering group. You are the pioneers.
"Please know that we are so very proud of you and your extraordinary accomplishments. On behalf of the Board of Trustees, and the University, I congratulate every student for your remarkable academic achievements," Farias-Eisner added. "A very heartfelt 'thank you' to each and every one of you for being a part of a program that is so dear and important to the University."
The Trustee Scholars committee is co-chaired by Senior Vice President of Student Affairs Beverly Guidry, EdD, and Vice President for Humanism, Equity, and Anti-Racism Suresh Appavoo, EdD.
"Most of you, if not all of you, in the application pool said that you were really interested in giving back to the communities you came from, but more importantly to serve as role models," Appavoo said. "That is such an incredible and compelling and important story for you to share. I want you all to know you have come to WesternU not just as students, but as scholars. That you belong here, and that we will help you thrive as scholars. Not only be successful as students, but thrive as student scholars."