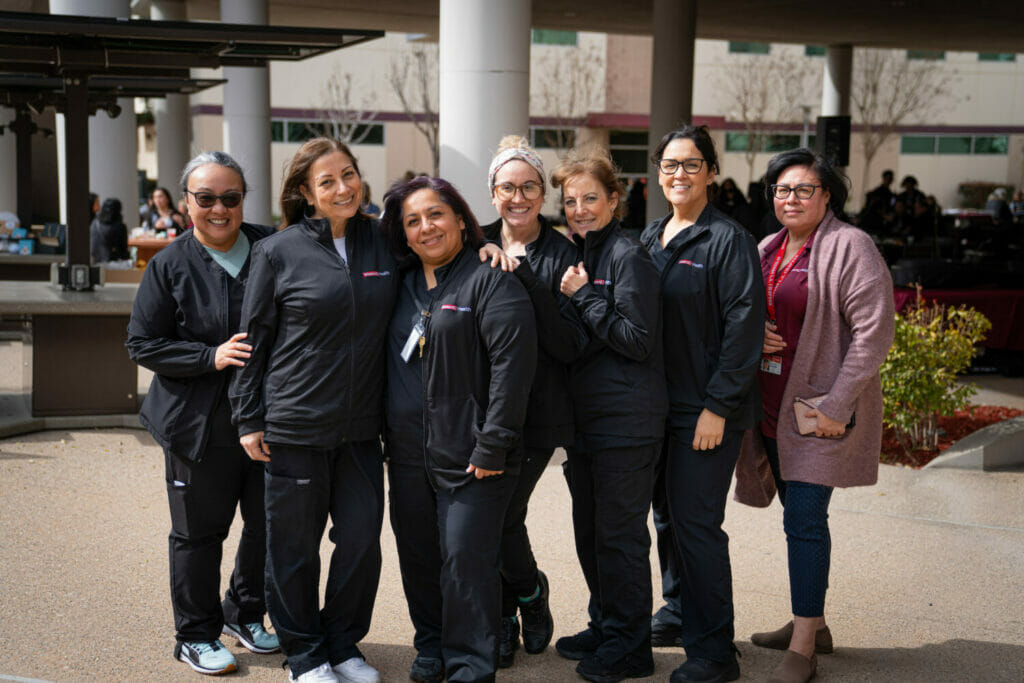 When the COVID-19 pandemic shuttered most everything in March 2020, many workers went home to shelter in place and work remotely. For WesternU Health, the vital work of providing care to the community continued, so the clinic workers and WesternU support staff continued to come to work in person.
Western University of Health Sciences held a special event Friday, Feb. 17, 2023 on its Pomona campus to celebrate clinic workers and support staff at WesternU Health, who have provided human and animal care throughout the COVID-19 pandemic. The event included lunch, a photo booth, and raffle prizes.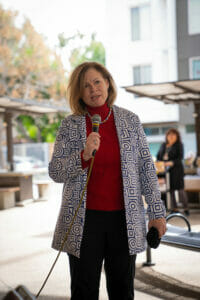 "You truly are the unsung heroes of WesternU.  Back at the very beginning of the pandemic, when everybody was walking towards lockdown, all of you were walking towards your patients," said WesternU Provost Paula M. Crone, DO '92. "All of you were opening up your arms, your creative thoughts and figuring out how we move forward. Through thick and thin, through challenges and obstacles, you always come together to figure out how to provide the best care for your patients possible. That's WesternU Health for both California and for Oregon. Please know from the bottom of our hearts at WesternU, you are appreciated. From the bottom of my heart, you are heroes. You were heroes during the pandemic and you've been heroes every day since as you continue to do what you do best, and that's to take care of our patients."
The event was developed by WesternU clinical leadership "who wanted to recognize all the wonderful, hard-working, dedicated, passionate work that all of our team members do and have been doing since the beginning," said WesternU Associate Provost of Clinical Affairs and WesternU Health Executive Director Rob Warren, DO '01, MBA. "In particular, they were front line workers. They were here when the campus was closed taking care of patients in the community. Today is about honoring our healers, and everyone who is involved at every level, from maintaining the facilities to maintaining the technology and supporting the clinicians.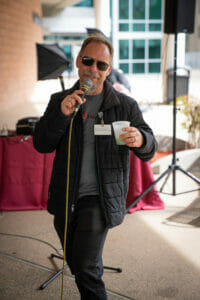 "What our clinical services represent is the crown jewel of the mission of WesternU, which is our people meeting the community where they have needs," Warren added. "This is about recognizing them, thanking them, supporting them, and continuing to encourage them."
The event was organized by WesternU Health Senior Director of Operations Amy Padoongpatt and representatives from every clinical department at the University.
"I hope everyone has a nice afternoon where they can enjoy being with co-workers," Padoongpatt said. "When everyone is rushing around all the time, they don't get time to sit down and relax. It makes me happy to see everyone eating and talking."
"I felt very grateful the University provided this for us," said WesternU Pet Health Center Receptionist Michelle Huljev. "It was nice seeing all the colleges there together."
"The pandemic was very difficult on everyone, but the staff of the Foot and Ankle Center continued to see patients every day without complaint and without interruption, risking their health to serve our patients," said College of Podiatric Medicine Associate Dean for Clinical Affairs and Foot and Ankle Center Medical Director Jarrod Shapiro, DPM, FACFAS, FACPM, FFPM RCPS (Glasg). "We couldn't have done it without them."
Zulma Medina, an optician in the WesternU Eye Care Institute, said this event was a nice opportunity to celebrate together as a University. The start of the COVID-19 pandemic was scary and stressful, but "we all stuck together in our department and we just got through it," Medina said. "We just would brainstorm together, shoot out different ideas, and figure it out."
College of Pharmacy alumnus Ryan Lam, PharmD '21, works in the WesternU Pharmacy. COVID-19 changed the pharmacy in many ways, including the workflow and their responsibilities. Pharmacists were at the forefront of battling the pandemic, providing vaccinations and care.
"Everybody feels good to be part of something good," Lam said. "The profession is constantly evolving. We enjoy what we do. It's good to give back to the community. They appreciate you, too. They come in and show gratitude for the services you provide for them."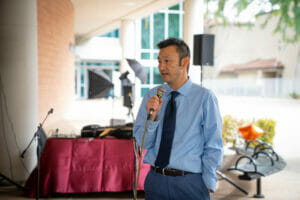 Everyone at WesternU Health is here for the right reason – to provide care to the best of their ability regardless of the situation, said College of Dental Medicine Associate Dean for Patient Care and Clinical Education Brent Fung, DDS.
"While at times it could get hard, and we were kind of burnt out, it's nice to see everyone supporting each other," Fung said. "It's a nice family community to get together with. I am fond of people from all parts of our building, not just my floor. The pandemic brought us closer in so many ways. We dreamed of doing something like this – having a nice meal and a time when people can relax and be appreciated, and I think the committee did a fantastic job capturing what we hoped to provide everyone. This is a very small token of appreciation for a large job well done."
So many people have celebrated coming back to work, coming back on campus, and yet the WesternU Health and the Facilities teams have been here all along, said University Medical Center Chief Medical Officer Brian Loveless, DO '02.
"We wanted to come up with some way to thank those who were triple masking to provide care for patients who didn't have a chance to go home, who kept things going," Loveless said. "We all have stressful jobs, and now we have a chance to unwind and mingle, which really adds to the team nature of this group and brings a lot of cohesiveness."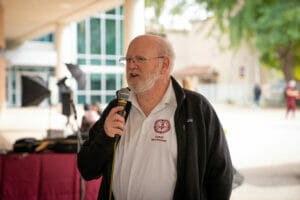 Rob Richardson, DO, traveled from Oregon as a representative of both WesternU Health Oliver Station and the WesternU Board of Trustees.
"Being a clinician, I know what the last 35 months have been like. It was 35 months ago almost to the day," Richardson said. "Again, thank you for being there for our patients, our students, and our community."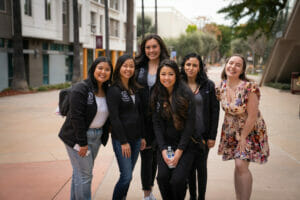 Richardson was part of a contingent from WesternU Health Oliver Station who visited Pomona to be part of the event.
"This was pretty awesome. I'm grateful to meet everyone. It's nice to put faces to all of the names," said WesternU Health Oliver Station Referral Coordinator Linda Diep. "It's really cool to be part of this and to come down and experience it with the entire staff here."