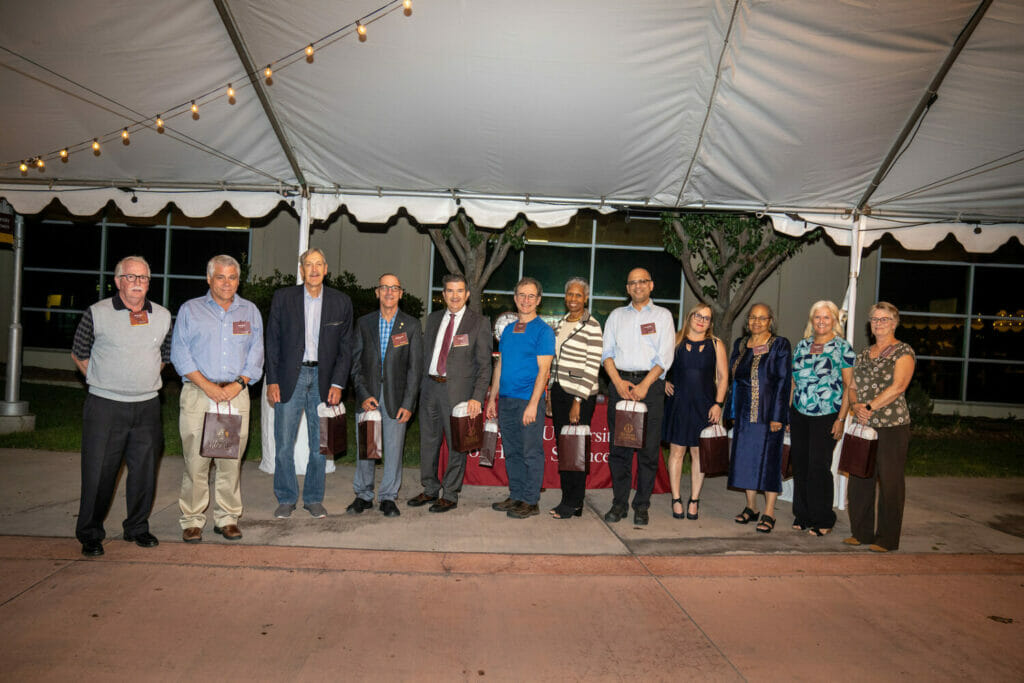 Western University of Health Sciences celebrated alumni from the inaugural Class of 1982 through the most recent Class of 2022 and many more in between.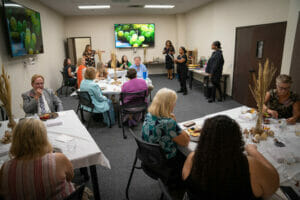 WesternU's third Alumni Reunion included a networking reception at the Fox Theater in downtown Pomona Sept. 16, 2022, and dinner on the Pomona Esplanade Sept. 17. About 100 guests attended between the two events.
The Saturday activities included a wine tasting and charcuterie party for the College of Graduate Nursing and tours of the newly renovated Pumerantz Learning Center.
WesternU President Robin Farias-Eisner, MD, PhD, MBA, shared his vision for the University, which includes expansion in both Pomona and in Lebanon, Oregon, as well as a capital campaign.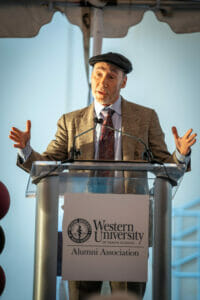 "I am dedicated and committed to doing exciting things for this University. It is the time for Western University of Health Sciences to be catapulted to a position of international preeminence and recognition. It's long overdue, in my humble opinion," Farias-Eisner said. "We have the most incredible combination of graduate health science colleges that I've ever seen. I don't know any other college that meets what we have. I believe it's unparalleled and unmatched. And that is all thanks to all of you. You had an integral part of making this happen. As so as we move forward together with you as our ambassadors, there is a lot we can do."
COMP alumnus Prateek Jindal, DO '02, said he is happy to see the growth of WesternU. The reunion marked his first time on campus since his graduation.
"I have a lot to thank WesternU for making me who I am and getting me where I am," he said. "I know WesternU and their graduates are held in high regard in the community."
Jindal has fond memories of his time on campus, including shooting pool during study breaks in the student lounge. He also remembers the camaraderie and the friends he made.
"WesternU certainly gave me a very strong foundation in medicine, and they further developed my sense of humanism and compassion in how to approach medicine and patients with embodying the same spirit," he said.
In addition to wanting to see classmates, several alumni cited their gratitude to the institution as a main reason for attending the reunion. College of Pharmacy graduate Maria Esmeralda Downs, PharmD '12, said she was grateful for the mentorship of the late Dr. Sam Shimomura, one of COP's founding faculty members.
"He was my mentor. He was so kind to me, so inviting," Downs said. "I feel that closeness to the University because he helped me out. I just feel I should give back and be part of seeing the growth and the future."
CGN alumna Juanita Mays, DNP '12, said she attends all of WesternU's events if it's within a reasonable distance.
"I really appreciate the education I received here. I had great instructors and great experiences," she said. "I learned a lot. I really treasure the knowledge I received because it helped me be a better nursing instructor."
Mays teaches nursing fundamentals at West Coast University.
"I not only teach skills, I teach them life skills. Compassion is what nursing really means. I make sure my students care about people. If they don't care about people they shouldn't be in nursing," Mays said.
Nursing is always evolving, Mays said, and she could not teach nursing like she was taught in the 1960s.
"Everything has changed in the world today. You need to know what is currently happening. Otherwise, you are going to be left behind," Mays said. "I'm still learning. (CGN) gave me a good foundation to work on and to help my students."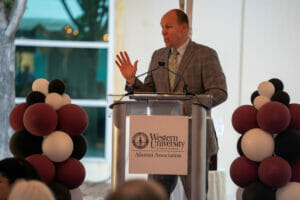 College of Graduate Nursing alumnus Marc Wirtz, MSN '13, serves as the WesternU Alumni Association Leadership Board President and also served as the master of ceremonies for the reunion dinner. This was the first in-person reunion since 2019, and Wirtz joked that this experience might feel unfamiliar to many of the guests.
"There are people, human beings, that breathe just like you, they're sitting to the right and left of you. It's OK to talk to them," Wirtz said. "You can touch them, with their permission. You can laugh with them. You might even cry with them. You can tell them what you've done for the last three years… But over the course of this dinner, we want to make sure that we have a lot of fun. We are gathered together for the first time in over three years. We've gone through a lot of hardship individually, personally, and then as a college and as a university we've grown and we've come together. I want to make sure we get to engage with one another and have a good time."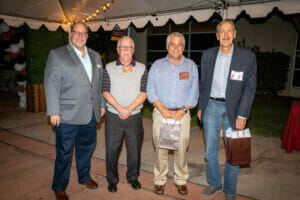 WesternU honored several classes celebrating milestone anniversaries, including the inaugural Class of 1982 for COMP, WesternU's founding college. COMP alumnus Murlan Grise, DO '82, owns a family practice in Oregon, and has interviewed prospective students at COMP-Northwest.
The inaugural class took a chance on joining a new osteopathic medical college, but Founding President Emeritus Philip Pumerantz, PhD, and the administration also took a chance on them.
"I felt lucky to be here. Looking back, I appreciate the opportunity I was given," Grise said. "I see all the change and transformation. From my perspective, I give that credit to Dr. Pumerantz. They took a chance on me. It worked out well. I look back fondly at the time we spent here."
He looked forward to reconnecting with his classmates at the reunion.
"It was a close-knit group of people," Grise said. "I very much enjoyed it. It was a lot of work, but we developed close friendships that have persisted to this day."