WesternU CDM shines at Healing California health fair clinic
Western University of Health Sciences College of Dental Medicine (CDM) students and their preceptor have been traveling to the far reaches of Southern California to provide free dental care to the underserved.
In October 2022, CDM students with the WesternU chapter of the American Association of Public Health Dentistry (AAPHD) volunteered at a Healing California free clinic in Thermal, California, which was organized by Flying Doctors, Southern California chapter.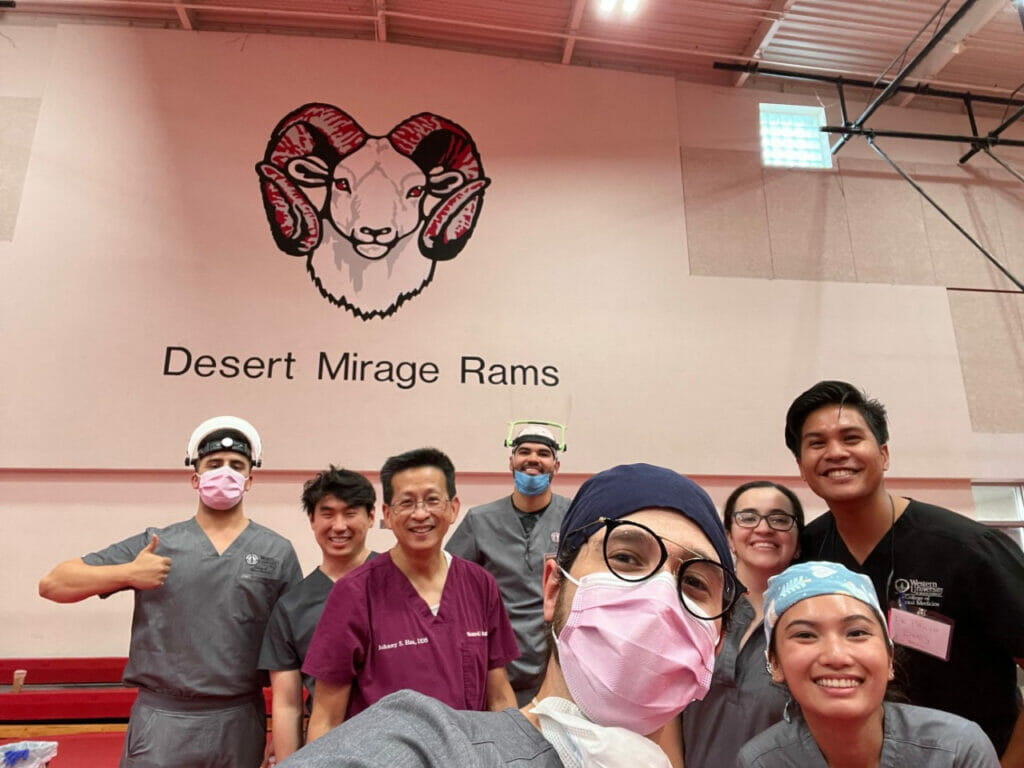 CDM Assistant Professor Johnny Han, DDS, has been involved in community outreach and volunteering with CDM students since 2018. During this health fair, he and his students were able to provide service to 21 patients and performed 37 procedures.
"With other licensed dentists and hygienists, our dental students showed up in force to help take care of the long line of patients needing care for about seven hours," Han said. "Our dedicated students are second to none."
Dr. Han said students get clinical experience and see health disparities in oral health care that is affecting all the underserved communities.
Patients waiting to be seen at these events often exhibit oral pain and toothache that can affect their daily lives. Daily function is affected such as eating, contributing to malnutrition. Missing or broken teeth can affect appearance, which causes low self-esteem, Han said.
Third-year CDM student Luis Robinson, MS, is president of AAPHD. He helped Dr. Han and fourth-year dental students provide dental care to the neediest.
"These events have shown me that there is a great number of people who need dental care, but also a great need for volunteer dental providers in the community," Robinson said. "As dental students and future dentists, my peers and I, with the mentorship of our compassionate doctors like Dr. Han, are in a great position to offer our services to our community to help alleviate the growing need for dental care."
Robinson said he is grateful to be part of a school that cares about giving back to the community.
Fourth-year CDM student Aaron Bacha, who is a bilingual Spanish speaker, said he came to dental school with the goal of serving the community.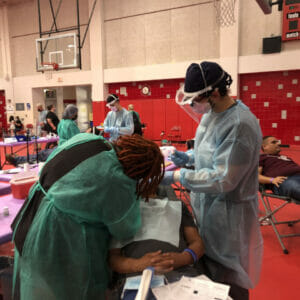 "Volunteering at dental outreach events across the state is the best way to see the true need for affordable and accessible dental care," Bacha said. "You learn about the hardships that people have endured, and it reinforces the value that we as dentists can bring to communities in need."
Bacha said WesternU CDM prepared him for volunteering through the Community Based Dental Education curricular arm of CDM. Students review public health statistics and concepts in the first two years and have a clinical component working in pediatric settings and community clinics for clinical externships.
WesternU CDM also volunteered at events in October 2022 in California City and Vista, California, and on November 11 will provide care at a veteran's outreach in Chatsworth, California.
"I started my career as a dentist in the U.S. Air Force during the Desert Storm/Desert Shield period," Han said. "Being a veteran, I look forward to serving another neglected group in our community. WesternU gave me the opportunity to involve the students in many of these veterans' stand-down (outreach programs). I feel that going to community outreach as a team (students/preceptors), we can reach a lot more patients than one licensed volunteer by him/herself."
Han hopes that by serving in events like these, students will continue to serve and give back long after graduation.
"Here at Western University of Health Sciences, our mission is to train the next generation of health professionals to enhance the quality of life in our community," Han said. "I feel that I need to step up and guide the students so that they will bring to action what they hear, read, and see. The action of humanistic and compassionate healing to the less fortunate of our community."