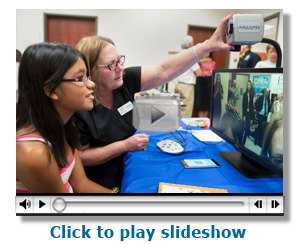 With help from Western University of Health Sciences and Sight Savers America, five local children received training and took home Electronic Video Magnifiers (EVMs) to help them with their homework and daily activities.
Kati Moore, with Sight Savers America, taught 16-year-old Steven Bocanegra and his father, Mark, from San Bernardino, how to use the EVM as part of the "I Can See Now" program. A downward-pointing camera magnifies books and other reading materials. The camera can also be moved so the viewer can see a poster or blackboard hanging across the room, or an enlarged image of themselves.
"A lot of people shave or do their hair," Moore said. "We encourage you to use it for anything you can think of. You can use it for everyday life."
They looked at nutrition information on food packaging and zoomed in on a $10 bill. Steven said he has used a smaller EVM at school, but he did not have one at home.
"It's going to help me very much because of homework," he said.
Steven has undergone more than seven surgeries due to uveitis and a detached retina. He can get around and probably even drive, but he can't read small print.
"I think this is great," Steven said. "I hope it helps a lot more people like me."
"I appreciate the help," said his father, Mark Bocanegra. "We will go into the future and see what he can get out of life. It looks really promising."
Steven was one of five children to receive training from Sight Savers America Aug. 5, 2015 at the WesternU Eye Care Center in Pomona. The children were referred to the Sight Savers America/WesternU program through an agreement with the California School for the Blind, which is operated by the California Department of Education.
Sight Savers America http://sightsaversamerica.org/ gave EVMs to each of the children through generous donations from The Million Dollar Roundtable and Optelec International. The children are from San Bernardino, Redlands, Hemet, Pomona and Ventura.
"We recognize that the most important people here today are the recipients of this very generous sponsorship and donation," said WesternU College of Optometry Dean Elizabeth Hoppe, OD, MPH, DrPH. "We are here in your honor and recognizing everything that you're going to be doing moving forward with your new devices. Congratulations."
"I want to thank WesternU for being a partner with Sight Savers in the Los Angeles area, particularly here in Pomona," said Jeff Haddox, president and CEO of Sight Savers America. "Our goal is to grow (this program) throughout Los Angeles and ultimately to help every child that needs this equipment to get it. This is the culmination of two years of work, and we hope to expand it and grow it a lot faster in the future and make sure that we get to every child."
A representative from the office of Los Angeles County Supervisor Hilda Solis presented Haddox with a proclamation.
College of Optometry Chief of Vision Rehabilitation Service Linda Pang, OD, FAAO, said, "I give a lot of credit to Jeff and the Sight Savers team for their tireless efforts acquiring the funding sources, contacting the families, getting their stories, and then maintaining the momentum throughout this whole process. We're grateful to be involved with this partnership.
"And for us, as a teaching institution, it doesn't just benefit our patients. It also allows our optometry students to learn how to provide care and advocate for people in this unique population," she added.
Redlands resident Deocelina Ramos, who will enter the seventh grade next week, received training on an EVM. She has optic nerve hypoplasia, a congenital condition in which the optic nerve is underdeveloped.
"I think it will help a lot," she said. "I'm grateful for it, and I'm really glad that they gave this to me."
"We're grateful and blessed to know there are generous people who want to help our children with disabilities, especially with vision disabilities," said her mother, Wendy Ortega.