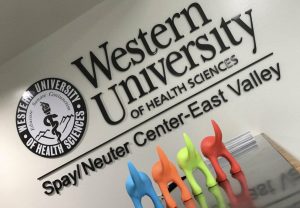 WHAT:             Grand opening of Western University of Health Sciences'
                           East Valley Spay/Neuter Center
WHEN:             Noon Thursday, October 26, 2017
WHO:                Western University of Health Sciences, Los Angeles Animal Services officials and other invited guests. Please RSVP by Friday, Oct. 20, 2017 to Stephanie Butler at sbutler@westernu.edu.
WHERE:          Western University of Health Sciences East Valley Spay/Neuter Center, 14409 Vanowen Street, Van Nuys, California 91405
OVERVIEW:   In partnership with the City of Los Angeles Animal Services and with generous support from Michelson Found Animals Foundation, Western University of Health Sciences College of Veterinary Medicine is excited to announce the opening of the WesternU East Valley Spay/Neuter Center. The clinic, located at the East Valley Animal Shelter in Van Nuys, will offer spay and neuter services to the shelter and local communities along with preventive care. This partnership provides the college with a new clinical teaching site for our students to receive training in efficient and safe techniques for high-quality, high-volume spay/neuter and real-world, hands-on experience. We are also excited to develop more focused training in shelter medicine and community practice for students and postgraduates in the future. Our first students will begin rotation through the clinic in January 2018. The clinic will officially open to the public on Friday, October 27, 2017 and will be open from 8 a.m. to 5 p.m. Tuesday through Saturday. Call 818-510-0197 to make an appointment.