Dr. Dale Carrison got a phone call, threw on his scrubs and headed to the University Medical Center (UMC) Trauma Center in Las Vegas, knowing he was headed into carnage.
It was shortly after 10 p.m. Sunday, Oct. 1, 2017 when the Las Vegas Metropolitan Police Department (LVMPD) called College of Osteopathic Medicine of the Pacific (COMP) alumnus Carrison, DO '87, and told him about a mass shooting at the Route 91 Harvest festival in downtown Las Vegas.
Carrison is a seasoned emergency room doctor, and his Las Vegas hospital is a busy setting inside a popular nightlife destination hotspot. He'd seen 10 to 20 patients come in from a bus accident before — but nothing on the scale of the shooting, which left 59 people dead and hundreds more wounded after Stephen Paddock, 64, opened fire on country music concertgoers from his 32nd-floor Mandalay Bay hotel room.
"We have an 11-bed trauma center and there were probably 40 to 50 people being tended to," Carrison said. "Walking into (the trauma center), what impressed me the most was that everybody that needed care was getting care, there were providers everywhere, and so many people came from every place. It was just amazing. The numbers were huge. It was a pure MASH unit."
Carrison is chief of staff and chair of emergency medicine at UMC. He's also the medical director for LVMPD and Clark County Fire Department, and is a professor and chair at University of Nevada Las Vegas School of Medicine. He also is the former chair of the Nevada Commission on Homeland Security.
Carrison said blood was everywhere when he arrived at the hospital with Dr. John Fildes, the UMC trauma medical director.
"My job at that point is not patient care, but organization and administration," Carrison said. "We made sure the incident command center was set up. We had 18 people in chairs, with extremity injuries primarily. Well, they don't need to be in the trauma center, and we determined they needed to go to the emergency department or another part of the hospital."
UMC is a Level 1 trauma center. Carrison said that when the shooting occurred, nine patients already were in the center and needed to be moved. One had a broken neck. "We still needed to take care of them in the middle of this chaos," he said.
Carrison described prioritizing and triaging the trauma center bluntly: Two patients had wounds that were not survivable. They needed to be moved out of trauma to free up beds for other patients who could survive. Nursing staff provided comfort to the two patients – whom Carrison described as expectant — and they were moved. 
Trauma surgeons went from patient to patient stabilizing them, returning later for surgeries if necessary. The trauma center was a chaotic bloodbath, Carrison said. The operating room floors around the resuscitation beds were covered in blood that needed to be cleaned up for each ensuing patient.
There were an amazing amount of wounds, a lot of shrapnel wounds from the projectiles bouncing off the ground, a lot of extremity injuries from that," Carrison said. "Extremity injuries that were vascular, which makes them life-threatening injuries. We can leave the tourniquet on for an hour or so if somebody has been shot in the belly or in the chest, and the ones that need to go to the OR go first. Triage is incredibly important."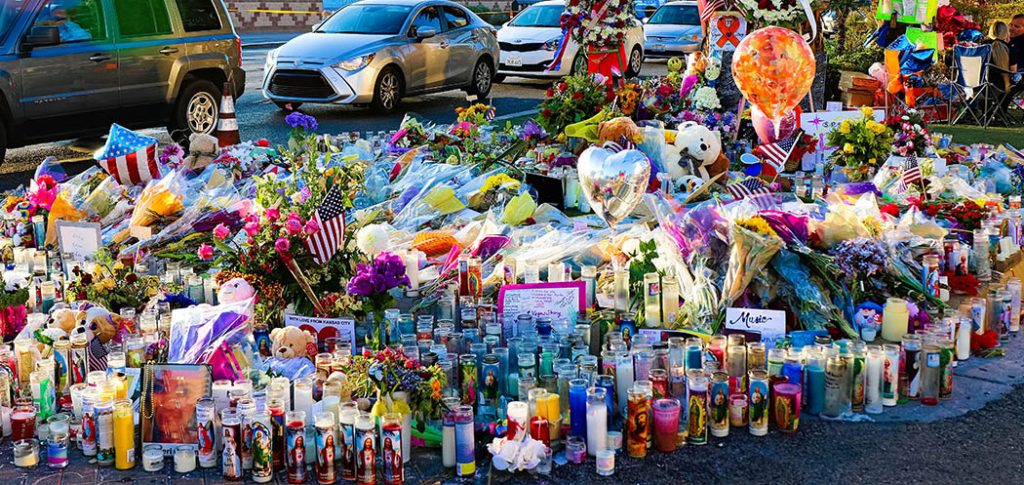 While emotions were riding high for Carrison, he said he is a veteran of the trauma center experience and could handle it. His concerns were for his residents and younger emergency physicians who had never been through something like the shooting.
"I want to make sure my medical students and residents know counseling is OK," said Carrison. "It's OK to be upset and ask for help. There is no stigma for asking for help after something like this."
Carrison's career in medicine started late in life. While a midshipman at the United States Naval Academy, he sustained a serious shoulder that cut short his career in the service. Afterward, he became an Orange County deputy sheriff, then was recruited by the FBI, where he worked for five years.
He left the FBI to help his father run auto parts stores, and became partially paralyzed as the result of a scuba diving accident. During his recovery, he realized he wasn't happy working in retail and decided to pursue a career in medicine.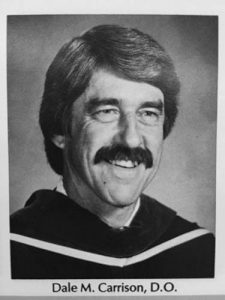 He attended Cal State University San Bernardino and received his master's degree in biology in 1983. He started at COMP in 1983, and was the oldest medical student at the time — 43 — when he began. He was class president in 1987 and was the graduation speaker during Commencement.
"COMP gave me the opportunity to go to medical school and become a physician, and I'm forever grateful for that," He said.
Carrison, now 78, has advice for aspiring emergency room physicians.
"ER physicians are an interesting specialty because we have to know so much about everything," he said. "We have to know a lot about a lot of things. Understand that you are human, absolutely have to be a good communicator, and always have to be prepared for the worst and get ready to do your best. It sounds trite, but it's absolutely true."
Carrison said his amazement about how the Las Vegas community came together during the shooting and its aftermath reminded him of a quote from the 1984 movie "Starman."
"'You are a strange species. Not like any other. And you'd be surprised how many there are. Intelligent but savage. Shall I tell you what I find beautiful about you?'" Starman said. "'You are at your very best when things are worst.'"