Western University of Health Sciences welcomes President Robin Farias-Eisner, MD, PhD, MBA
March 7, 2022
Read 3 mins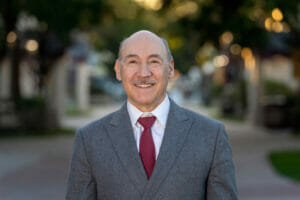 Western University of Health Sciences (WesternU) welcomed its new president, Robin Farias-Eisner, MD, PhD, MBA, on March 1, 2022, during a transformational moment in health care in which opportunities abound for WesternU and its students. He brings a dedication to uniting and bonding with the communities of Pomona, California and Lebanon, Oregon.
Dr. Farias-Eisner joins WesternU most recently from Creighton University in Omaha, Nebraska, where he was the Director of the Henry Lynch Comprehensive Cancer Research Center and Chief Academic Officer in the School of Medicine. He was also Associate Dean of Women's Health and Professor and Chairman of the Department of Obstetrics and Gynecology at the School of Medicine at Creighton.
Prior to his appointment at Creighton, Dr. Farias-Eisner spent much of his career at the University of California, Los Angeles. In 1992, he completed a fellowship in Gynecologic Oncology and spent the next 30 years working to improve the health of women in underserved communities in South Los Angeles who were critically ill, many of whom were battling cancer diagnoses. Throughout his career, he has been a pioneer in surgical procedures being used to treat gynecologic malignancies. Not only a skilled clinician, Dr. Farias-Eisner is also a skilled researcher and fundraiser.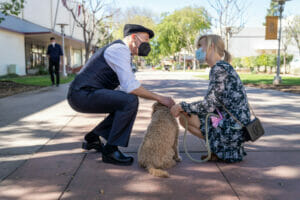 Dr. Farias-Eisner, who is of Latin origin and fluent in French, Italian, Spanish, and English, has a decorated academic pedigree that includes a Bachelor of Science in Biochemistry from UCLA, a medical doctorate degree from the Royal College of Surgeons in Dublin, Ireland, a PhD in Molecular Biology from UCLA, and an MBA from the Graziadio School of Business Management at Pepperdine University.
"I am humbled and honored to be the next president of WesternU," Dr. Farias-Eisner said. "WesternU's mission of producing health care professionals in a humanistic tradition instantly drew me to the institution. Not only is WesternU guided by core values that deeply align with mine, but my entire career has been about advocating for equity, inclusion, respect, empathy and trust. I am excited to begin my journey with our campus community and engage with WesternU's world-class students, faculty, and staff. And I am equally looking forward to connecting and building relationships with our communities in Lebanon, Pomona, and beyond."
Dr. Farias-Eisner is WesternU's third permanent president in its nearly 45-year history. Founding President Philip Pumerantz, PhD, launched WesternU's founding college, the College of Osteopathic Medicine of the Pacific (COMP), in 1977 in Pomona, California. Dr. Pumerantz led COMP's growth and restructuring into Western University of Health Sciences in 1996. He retired in September 2015. President Emeritus Daniel R. Wilson, MD, PhD, served as WesternU President from 2016 to 2021.