Western University of Health Sciences names Paula M. Crone, DO '92, Provost
February 16, 2023
Read 1 mins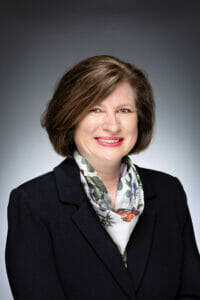 The Western University of Health Sciences Board of Trustees and President Robin Farias-Eisner, MD, PhD, MBA, are pleased to announce Paula M. Crone, DO '92, will serve as the University's next Provost following a rigorous national search process. Dr. Crone served as Interim Provost since April 2022 and became Provost on Feb. 6, 2023.
"WesternU is so deeply fortunate to have Dr. Crone assuming the role of permanent Provost," Dr. Farias-Eisner said. "Dr. Crone has an unmatched level of insight into the WesternU community that will serve us well as we continue to grow and transform. She is deeply committed to the values that make WesternU such a special place, and her dynamic nature will continue to support our work in new and exciting ways."
Prior to her appointment, Dr. Crone served as Dean of the College of Osteopathic Medicine of the Pacific (COMP) in Pomona, California and COMP-Northwest in Lebanon, Oregon, from September 2013 until April 2022. Dr. Crone served as Interim Dean of COMP and COMP-Northwest from July 2012 to September 2013 and as Executive Associate Dean of COMP-Northwest from July 2010 until December 2012.
Prior to joining WesternU, Dr. Crone was a respected family practitioner in Oregon, serving as partner in private practice and as the Program Director of the Family Practice Residency Program at Eastmoreland Hospital in Portland, Oregon. Dr. Crone also served as a consultant for graduate medical education development at Samaritan Health Services (2005-09) and on the Oregon Healthcare Workforce Task Group.
Dr. Crone has served on many professional boards during her career, including Mid Valley Healthcare, Inc., Samaritan Health Center, Osteopathic Physicians and Surgeons of California and the American Association of Colleges of Osteopathic Medicine.
Dr. Crone helped launch WesternU's COMP-Northwest, the first new medical school in Oregon in over a century. Dr. Crone's leadership of WesternU's Oregon campus has been guided by her goal to develop the highest quality osteopathic medical academic program in Oregon and supporting health care professionals of the future. Dr. Crone led the COMP-Northwest project from its earliest inception to a now-thriving osteopathic physician training and education program. The WesternU Oregon Advisory Board, a team that Dr. Crone helped put together more than 13 years ago, has had a tremendous impact on COMP-Northwest's growth and continues to be instrumental in helping to support WesternU Oregon endeavors.
Dr. Crone is experienced in fundraising, having helped WesternU's Oregon and California campuses raise more than $30 million for new scholarships, simulation equipment and space, communication and learning platforms, expanded research opportunities, and increased faculty and student development opportunities; legislative management; enterprise development, with intimate knowledge of every piece required to build and accredit a new medical school; and recruitment and enrollment.
"We've watched closely the profound impact that Dr. Crone has had on shaping the WesternU Oregon campus," said WesternU Board of Trustees Chair Elizabeth Zamora, MBA, LHD (Hon.). "As interim provost, Dr. Crone has been a thoughtful leader and collaborator with President Farias-Eisner and the leadership team. We have the utmost confidence in her taking on the role permanently."
Dr. Crone is a WesternU alumna, earning her Doctor of Osteopathic Medicine degree from COMP in 1992. She completed her residency in Family Medicine at Eastmoreland Hospital in Portland, Oregon. She earned her Bachelor of Science in biology at the University of Portland in Portland, Oregon.
"I'm humbled and honored to have been selected to serve as WesternU's permanent provost," Dr. Crone said. "For the past decade, I've been amazed by the groundbreaking research, commitment to humanistic practices and deep authenticity of the WesternU community. I'm beyond excited to work with President Farias-Eisner and the leadership team as we move WesternU into the next stage of its evolution."
Categories: