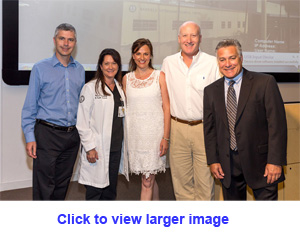 Dental clinicians from Newcastle University, United Kingdom, visited the Western Diabetes Institute (WDI) at Western University of Health Sciences to learn more about its integrated approach to diabetes care.
Philip Preshaw, BDS, PhD, FDS, Professor of Periodontology, School of Dental Sciences and Institute of Cellular Medicine at Newcastle University, and Susan Bissett, National Institute for Health Research Clinical Research Fellow & Team Lead, Dental Clinical Research Facility, Newcastle University, visited WDI Aug. 20-26, 2015.
Bissett conducted on-camera interviews with WDI team members and patients to learn more about WDI's cross-disciplinary approach to health care. Her visit is part of her PhD work, which focuses on developing better care for patients with diabetes and periodontal disease.
On Aug. 21, they sat in on WDI's Cross-Disciplinary Team meeting, where all of the health care professionals gathered and talked about their patients.
"This gave me further insight into how everybody meets together and how the patient's care plan and the best course of action are decided among everybody," Bissett said. "It's incremental. It's small steps, and everyone agrees it's shared learning."
Bissett is creating a documentary-style film of her WesternU visit in order to help her explain what she saw at WDI.
"As part of my PhD, I'm going to take it to some implementation scientists in Canada, scientists who specialize in novel health care innovations and how you can get them to slot in to everyday clinical life," she said. "They are going to help me decide how we can do something in the UK, learning from this model."
Diabetes, particularly type 2, is a complex, chronic disease that in many ways is being "re-discovered," said Professor of Internal Medicine and WDI Founder and Executive Director Andrew Pumerantz, DO, FACP.
"It's clear that people with diabetes typically suffer with other complex, chronic conditions. The proper diagnosis and management of this complex multimorbidity transcends the expertise and resources of providers from any single discipline," Pumerantz said. "The rapidly expanding scientific knowledge emerging around diabetes and multimorbidity clearly begs us to redesign models of health care delivery and firstly to 'put the mouth back in the body.' "
Professor Preshaw has studied links between periodontal disease and diabetes for 10 years. Professor Pumerantz contacted him after reading one of his published papers on periodontal disease and diabetes.
"Over time, through learning more about what he's done in trying to decide how we could undertake similar strategies in the UK, it became apparent that a visit to WDI would be beneficial to all parties," Preshaw said. "One thing we wanted to do was to go to centers of excellence, wherever they might be in diabetes care, and WDI is clearly a center of excellence."
They wanted to learn about the development of WDI and what might be applicable in the UK.
"It's fact-finding, observations, and seeing how the clinic operates," Preshaw said. "One of the challenges when setting up anything new is that people can't see how it might work, because they're busy doing what they already do. You can show a video of how this all works, and then suddenly they might think, 'Actually, it might work here as well.' It will be much more powerful to capture that patient journey and the input of all the different specialists around the patient."
In northeast England, diabetes management means teamwork. The Newcastle Diabetes Centre has a dietitian, and a patient would also see a health care assistant, similar to a medical technician in the U.S., Bissett said.
"They will see the doctor, endocrinologist, dietitian, and receive a retinal screening, but that's where it ends," she said. "Nobody ever talks about the mouth. There are health care teams, but not as here. This is unique."
"It does feel truly multidisciplinary and multiprofessional here," Preshaw said. "Even within the existing diabetes care teams as they are at the moment in the UK, although different health care professionals feed into the information that's provided to the doctors, the discussion about the best managements and the best way forward for the patient doesn't involve all of them. So to include all of them would be a big step forward."
"In the UK, things are very fragmented," Bissett said. "To enable a patient to really gain a true understanding and control over their diabetes, they have to be central. And a fragmented system just puts them off, as well. Nobody is communicating with each other. They're told one thing by one person, one thing by another person, and that has to change.
"I think you would see better outcomes for diabetic patients if there was a more connected approach," she said. "They would feel more a part of it. They would see the results of their actions and they would have more of a sense of responsibility."
WDI's Center for Periodontal Health held the First International & Interprofessional 3-Day Symposium on Diabetes and Periodontal Disease Aug. 24-26. Preshaw and Bissett both gave talks on periodontal disease and diabetes. Pumerantz spoke on "Implications for diabetes care: redesigning and scaling team-based care."
"Philip, Susan, and I have been collaborating for a few years, and we recently co-authored a review article on diabetes and periodontal disease that was published in a UK journal whose readership is primarily diabetes nurses," Pumerantz said. "This visit to WDI to study us in action was certainly the high-water mark of our collaboration and the WDI's journey. They held a mirror up for us to examine ourselves, and that's been very healthy. The three-day symposium was a seminal international and interprofessional event that was well attended by students, faculty, and senior leaders representing a cross-section of the WesternU community. Moreover, nearly everyone on our team had the unique and invaluable opportunity to spend face time with Philip and Susan in the flesh. Multiple lifelong bonds of friendship were forged over these five days in August."