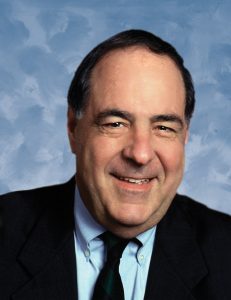 Entrepreneur and Tampa Bay Rays founder Vincent J. Naimoli, MBA, LHD (Hon.), has retired from the Western University of Health Sciences Board of Trustees after serving more than eight years.
"We are appreciative of the time he contributed to the board. He made great efforts to be here on regular basis, despite the long distance he had to fly from Florida," said WesternU Board of Trustees Chairman Richard Bond, DO, DrPH. "He was always very supportive of the university and he brought his business expertise to help us in our marketing."
Naimoli joined the board in August 2009. During his years of service, WesternU saw tremendous growth with campus expansion in Pomona, California and the opening of a new campus in Lebanon, Oregon. The board also oversaw the hiring of President Daniel R. Wilson, MD, PhD, in 2016 following the retirement of Founding President Philip Pumerantz, PhD.
"I am very proud of Dr. Pumerantz, as well as the board finding a great successor in Dr. Wilson," Naimoli said. "I appreciate Richard Bond's leadership of the board and also the progress on new campuses."
Naimoli has been president, vice president, chairman, or CEO of some of the biggest names in American business, notably Continental Can Company, Doehler-Jarvis, The Regina Company and the Electrolux Corporation. He was founder, chairman, president and CEO of Anchor Glass Container Corporation.
In 1995, Naimoli and his business partners were awarded a Major League Baseball franchise for the St. Petersburg, Fla., area. The Tampa Bay Devil Rays played their inaugural season in 1998; in 2008, the Tampa team – now known simply as the Rays – won the American League Championship and qualified for the World Series. Naimoli stepped down as managing general partner in 2005, and retains the titles of founder and Chairman Emeritus of the club.