Veterinary Research Takes Center Stage, Live and In-Person
April 4, 2022
Read 7 mins
WesternU's annual College of Veterinary Medicine (CVM) Research Day reminded attendees just how crucial face-to-face exchange of ideas can be in the spread of knowledge.
Research projects placed into the spotlight at the event ranged from a study suggesting that a lower-cost treatment for cranial cruciate ligament disease in dogs may provide more affordable care to a broad investigation of how advanced glycation end products could lead to neurodegenerative disease in humans.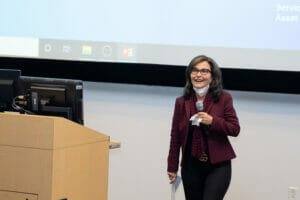 Research Day, held March 28, marked the CVM's first major in-person event since the beginning of the pandemic in March 2020, and also marked the 10th anniversary of Research Day. While important online tools such as Zoom and Teams have provided a critical bridge for students and faculty involved in research since COVID-19 forced a shutdown, there was little denying the energy of a communal gathering even while masked.
Researchers presented their results in the HEC Lecture Hall before an appreciative audience, displaying data on the hall's big screens and answering questions in real-time. The well-attended event was the first time that year one and year two veterinary students had been able to meet in person since the pandemic's outset.
"This is an opportunity to build a scientific community," said Dr. Dominique Griffon, DVM, MS, PhD, DACVS, DECVS, the college's Associate Dean for Research, at the outset of the event. "We have been apart for two years. This is a chance to engage in conversations around the science."
The pandemic has proven that scientific research has never been more important, according to Dr. Jonna Mazet, DVM, MPVM, PhD, the event's keynote speaker. Dr. Mazet serves as Vice Provost-Grand Challenges at UC-Davis, and founded the One Health Institute at that university. Through her work as Global Director of the recently concluded PREDICT project, she has been at the front lines of international disease detection and monitoring.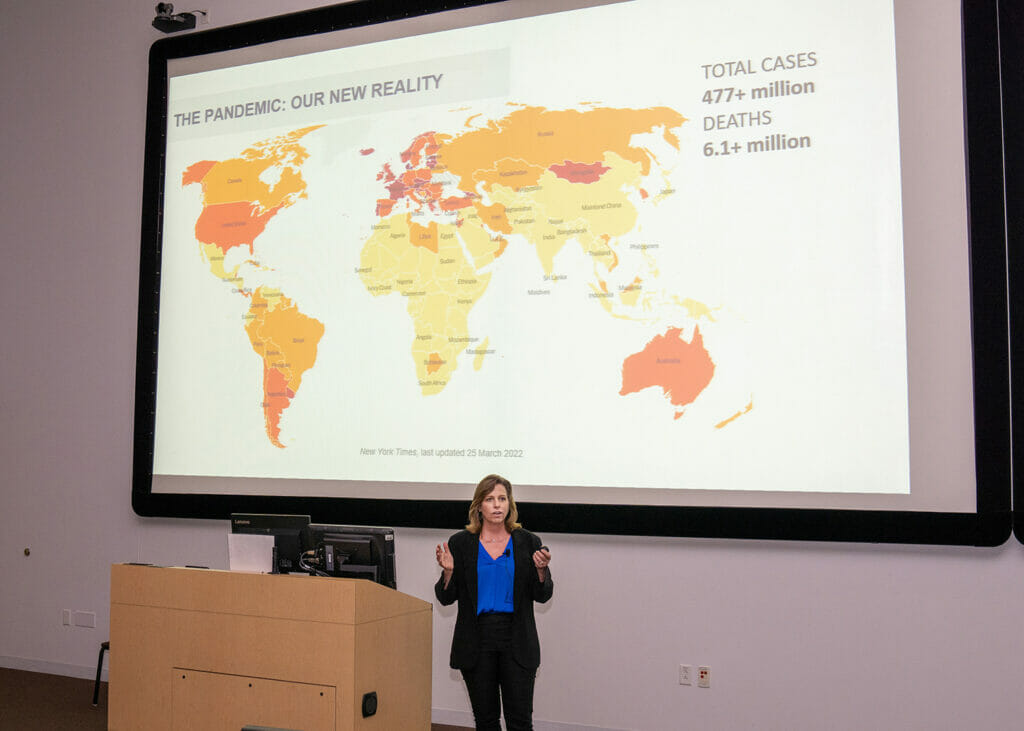 "The pandemic is our new reality. It will change everything for some time to come," she said. "I hope we will take the best (pandemic lessons) and forget the rest. But that's going to be on all of us to figure that out. To figure out how to move forward in the most positive way."
Dr. Mazet said that students have a critical role to play in the future of disease monitoring and prevention. By advocating for One Health solutions, which bring collaborative, multisectoral, and transdisciplinary approaches to health policy, the next generation of doctors can create a better understanding of the interconnection between people, animals, plants, and their shared globe.
"You are so important," she noted. "You are amongst the group in this world, in this country, in this state, that is always seeking knowledge. I hope you will continue in your efforts to always seek knowledge, to inspire life-long learning, and help us put aside some of our assumptions."
Learning and study is key to a better tomorrow, and the projects highlighted during Research Day took on a variety of issues in search of healthier solutions.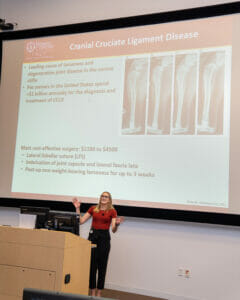 For example, Cassandra Bernas, DVM 2024, centered her project on an alternative surgical technique for cranial cruciate ligament disease, the leading cause of lameness and degenerative joints in the canine stifle. Surgical treatment of this condition costs between $1,100 and $4,500 per stifle, including the most affordable lateral fabellar suture (LFS) . Providing a low-cost option would be particularly helpful for shelters and low-cost clinics with limited financial resources, Ms. Bernas noted.
The study, supported by the American Society for Prevention of Cruelty to Animals (ASPCA) and PetSmart Foundation aims to enroll 50 affected dogs, randomly split into a control group receiving traditional surgery and a group undergoing a novel, minimally invasive alternative (pLFS). Dogs are evaluated at different intervals after the procedures via owner's questionnaires and gait examinations. While early, the initial data are promising, with the less expensive option providing an earlier return to function at 2 weeks compared to the more expensive route.
If early results hold true, owners could have more options for care. They could have their dog's CCLD treated by a board-certified surgeon, or a DVM could provide lower-cost pLFS through a clinic. "It is totally up to what the owner believes is right and what they can afford," Ms. Bernas said. "I think having more options is better for everyone involved."
Simon Ettenger, DVM 2024, also focused his research on providing care for animals and owners that might have less money to spend. Ettenger focused on the veterinary services provided by WesternU, examining how targeting more services to the low-income individuals living in Pomona could better serve the community in which the University is located.
While WesternU's VACS units and clinical sites provide a variety of low-cost services—such as vaccinations, sterilization surgeries, and parasite control—less than 1 percent of that care went to Pomona residents in the years prior to the pandemic. Under pandemic restrictions, services to Pomona residents increased to 17 percent since mobile units were unable to travel. This "served as almost a case study," Ettenger said, indicating a need for low-cost veterinary services in the Pomona area.
Ettenger added that Pomona had a lower per capita income than other communities in the Los Angeles area, and a higher rate of homelessness. The data appeared to indicate that "it could be sustainable to operate a mobile unit locally, with enough patients to sustain the program."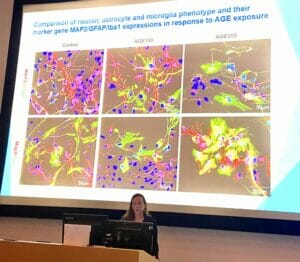 Grace Shinn, DVM 2024, studied advanced glycation end products (AGEs), a family of chemical compounds that are the result of nonenzymatic reactions between reducing sugars and proteins, lipids, or nucleic acids. AGEs can come from high-fat foods sweetened with sugars and cooked at high heat, such as fried foods and red meats. The research targeted AGEs' possible impact on mental health through micoglia activation and neuroinflammation.
"The body naturally rids itself of harmful AGE compounds. But they can't eliminate them when they are in excess," Ms. Shinn said. "They have not only been linked to processes such as aging, but also the development or worsening of chronic illnesses."
Ms. Shinn's high-tech work involved growing stem cells that were exposed to either control conditions or two concentrations of AGEs, then stained them with antibody immunofluorescent antibodies to differentiate the cell types present. Confocal microscopy was used to capture images of the networks as well as changes that might have occurred in cell quantity and morphology.
The brightly colored images that resulted from the staining suggested that microglia activation and neuroinflammation react to AGEs.
In closing, Dean Phillip Nelson, DVM, PhD, said the pandemic era has renewed attention on the need for medical research. "I have to say that I'm very impressed with the presentations that were made here today," he noted, thanking the faculty and staff that have helped strengthen the CVM's research efforts.
"We always think that research is separate from education, and it's not," Dean Nelson added. "Research is a part of education."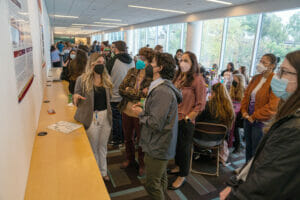 Other CVM research projects highlighted during Research Day:
Nicole Marter, DVM 2023: "Incidence of Palmar Process fractures in the Distal Phalanx of Arabian Foals," which described the occurrence of these fractures and predisposing factors in young horses.
Jin Yu, DVM, MS (Research Trainee): "Validation of a Novel Positioning Device and Dynamic Radiographic Technique in Quantify Rotational Instability in Dogs," which found that evaluating limbs with the use of a 3D-printed rotating device in combination with stress radiography allowed quantification of the degree of internal rotational instability in canine stifles.
Brandi Sparling (Research Trainee): "Advances in Identifying Immunoglobulin-like Receptors and their Roles in Immunity in Chickens," which identified new IG-like receptor genes that might be used to enhance immune responses in chickens.

CVM student Nicole Marter presents her research titled Incidence of Palmar Process Fractures in the Distal Phalanx of Arabian Foals.

Theros Ng (Research Trainee): "Transcriptomes of an Array of Chicken Ovary, Intestinal, and Immune Cells and Tissues," which characterized the messenger molecules of 10 cell and tissue types from the chicken using RNA sequencing.
Alexandra Lopez de Victoria, DVM 2024: "A Case of Feline Neurotropic Lymphoma" (Poster Presentation), which described an instance of neurolymphomatosis in a 10-year-old neutered male cat and possible therapies.
Sharona Sedighim, DVM 2024 (Poster presentation): "Hydrogel Templates as Cardiac Matrix Mimic for Tissue Engineering," which is working on the development of hydrogel scaffolds to heal cardiac tissue in heart patients.

CVM student Sharona Sedighim talks about her research poster titled Hydrogel Templates as Cardiac Matrix Mimic for Tissue Engineering.
The Annual College Research Day was sponsored by Zoetis, who supported several of the awards provided for best presentations and posters. These awards will be announced during the college's Honor's Day.