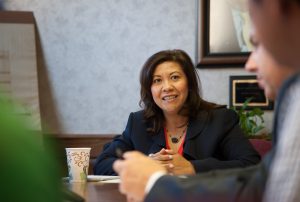 Rep. Norma J. Torres (D-Pomona) hosted a roundtable discussion to learn about policy issues, concerns, and ideas related to the Zika virus on Thursday, Oct. 20, 2016 at Western University of Health Sciences.
Torres was interested in learning how vector control is reducing mosquito-borne diseases and how public health professionals are preparing to confront Zika.
The roundtable included Robert Warren, DO '01, Chief Medical Officer of the WesternU Medical Center and assistant professor of family medicine for the College of Osteopathic Medicine of the Pacific (COMP), and Nishita Patel, MD, COMP assistant professor of internal medicine, division of infectious disease. Also on hand were Kenn Fujioka, PhD, district manager, San Gabriel Valley Mosquito & Vector Control District, and PIO Jason Farned, among others.
Ben Beard, PhD, associate director for Climate Change and chief of the bacterial diseases branch of the Center for Disease Control's Division of Vector-Borne Diseases, participated via conference call. Beard is based in Fort Collins, Colorado, where he coordinates CDC's programs on Lyme disease, plague, and tularemia.