U.S. Rep. Norma Torres secures $100,000 in federal funding for WesternU's Health Career Ladder programs
March 16, 2023
Read 1 mins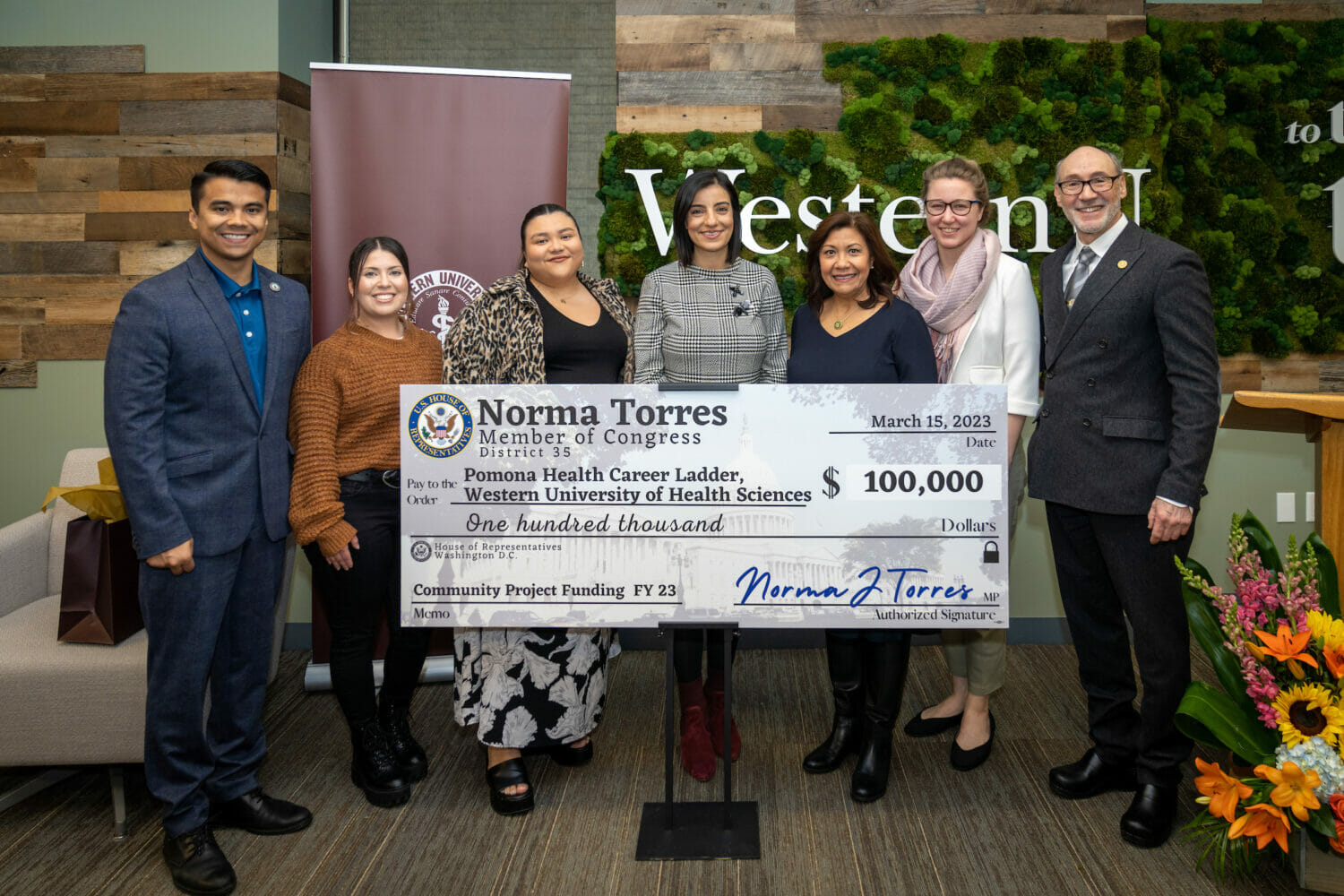 U.S. Rep. Norma Torres presented a $100,000 check to Western University of Health Sciences (WesternU) to benefit WesternU's Health Career Ladder programs, which provide support, linkage and mentorship to students interested in pursuing health professions.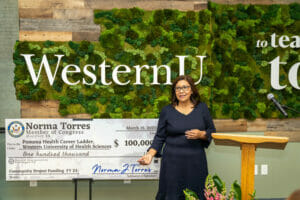 WesternU welcomed Torres and her team to the Harriet K. and Philip Pumerantz Library on the University's Pomona, California campus March 15, 2023.
"Since WesternU opened its doors in our downtown, we have seen this city prosper," Torres said. "You are such a big part of our city. I can't thank you enough."
Torres introduced her staff, including Legislative Director Serena Gobbi, who is handling multiple tasks during "appropriations season" in Congress.
"Serena truly understands that having a commitment to deliver dollars to our district is the most important thing that we can do. And once we deliver those dollars it is important for us to just get out of the way and let you do what you do best, and that is to serve our community," Torres said. "Thank you for being truly the best part of the city of Pomona in my eyes."
WesternU is grateful for Torres' support of the Pomona Health Career Ladder (PHCL), which provides learning opportunities for students in pre-kindergarten through 12th grade, said WesternU President Robin Farias-Eisner, MD, PhD, MBA.
The PHCL program started in 2008 with only 50 students in sixth grade, and now WesternU welcomes 200 to 300 students to campus every month to learn about the health professions. The program benefits Pomona Unified School District students as well as their families and WesternU students.
"Our students in all eight of our colleges go out into the community and they teach these kids," Farias-Eisner said. "So what we do is we reach deep into this community to these brilliant children that ordinarily would not have this opportunity. And that is thanks to you, Norma, for your willingness to support this program. It is now time to do what we do best, which is to partner and to continue to support our community and the education that it provides."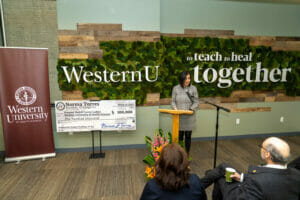 The Pomona Health Career Ladder is organized by WesternU's Center for Academic Community Engagement (ACE), led by Associate Vice Provost Elizabeth Rega, PhD. This federal funding will help ACE enhance PHCL's offerings through added advanced medical technology such as simulation manikins and ultrasound machines, said Director of Educational Partnerships and Outreach Helen Musharbash MSHS '12. The funding will also benefit the American Indian Health Career Ladder (AIHCL) and help WesternU launch the Rainbow Health Career Ladder.
"Through partnerships with our local Ohlone Tribe here in Pomona, we will be able to engage our Native partners and provide the necessary resources to advance our Native presence and culture in PHCL and AIHCL," Musharbash said. "In regard to our Rainbow Health Career Ladder, after many conversations with our partners at Pomona Unified School District (PUSD) and the Pomona Pride Center, we have learned that there is great need to reach our LGBTQIA+ identifying youth. In partnership with the Pomona Pride Center and PUSD, we will be able to create new programming, deliver it in a safe space, and empower our youth to learn more about their own health and how to advocate for themselves.
"Again, thank you, Congresswoman Norma Torres, for acknowledging the importance of pathway programming and the impact our own Health Career Ladder will have on our youth now and as future health care providers," Musharbash added.