Two WesternU employees celebrated for completing the 2020 Pomona Leadership Network program
Western University of Health Sciences College of Pharmacy Assistant Professor Shawn Smith, PharmD, and Executive Assistant to the Chief of Community and Governmental Affairs Patricia Lozano, MBA, were among the 16 members of the Pomona Leadership Network (PLN) to complete the nine-month program when the Pomona Community Foundation celebrated the second cohort with a virtual Capstone Ceremony Thursday, Sept. 17, 2020.
PLN is a civic and community leadership program designed to bolster and train a pipeline of diverse leaders with a collective interest in the central issues affecting Pomona and its residents, according to its website.
Dr. Smith and Lozano said they became inspired by the training to become effective community leaders in the city of Pomona. Smith participated in group PEACH and Lozano was an active member of team P-Town Leaders. Both teams created projects to help Pomona and its residents.
Lozano and her P-Town teammates were concerned for Pomona's most vulnerable youth during the COVID-19 pandemic and organized the "Lucky Bags" project, filling backpacks with supplies that are useful for unsheltered and unaccompanied youth. The backpacks included snacks, gift cards for local food establishments, shirts, water, and other small portable items. A local foster and transitional youth organization received similar supplies but as a bulk donation.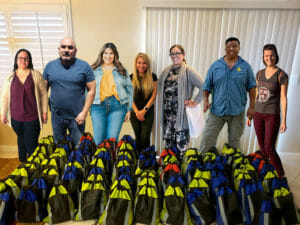 Local organizations that partnered with P-Town included Pomona Unified School District, the School of Arts and Enterprise, and JU4Y (Just Us 4 Youth). WesternU supplied backpacks for an in-kind donation.
P-Town also worked with The Youth and Family Club of Pomona Valley (The Club) and its executive director, Victor Caceres, to provide leadership and job interviewing skills training to the youth in the club. Lozano helped build a partnership with Social Cuts to offer free haircuts to prospective job applicants who are members of The Club.
"Being part of the Pomona Leadership Network program allowed me to give back to the communities and city that raised me," Lozano said. "Thank you, city of Pomona and Western University of Health Sciences, for helping contribute to my current success."
Smith was part of the PEACH group that created the Urban Harvest project. The team encouraged residents to donate surplus fruit and vegetables from their yard by filling boxes with them and leaving them on their doorsteps. A member of the Urban Harvest project would pick up the boxes and drop them off at local food banks.
This service was started during the pandemic, providing food for community members suffering from an economic downturn. The group collected more than 500 pounds of food and was also able to get a community garden approved by the Pomona City Council.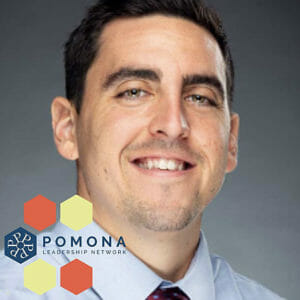 "As a new faculty member at WesternU, the Pomona Leadership Network provided me with an opportunity early on to learn more about Pomona and network with others who've invested years into building this community," Smith said. "I was welcomed by longtime community leaders and given a chance to grow personally and professionally.  PLN is an excellent program that helped me build on my leadership skills to better serve my colleagues, students, and patients."
The PLN capstone event was emceed by WesternU Associate Provost for Faculty Affairs Elizabeth Rega, PhD, who serves on the Pomona Community Foundation (PCF) Board.
PLN program staff worked with the WesternU Center for Academic Community Engagement (ACE) to distribute graduation leis and diplomas to the graduating PLN cohort two in advance of the ceremony as a mark of affection and respect.
"In Hawaiian culture, leis are a symbol of respect now that you have transitioned to a new phase," said Rega. "Congratulations to all of you for your accomplishments because I know it was not easy. The path was fraught with obstacles. We are very proud of you."
WesternU Chief of Community & Governmental Affairs Jeffery Keating, MA, is a board member of PCF and celebrated all the participants during the virtual event.
WesternU was also a proud sponsor of other PLN community projects, including Ready by Five and Beyond, distributing free diapers, snacks and canned goods to more than 130 families who have children enrolled in Pomona Unified School District (PUSD) early childhood programs.
Pomona Unified School District Superintendent Richard Martinez said the P-Town Leadership projects are significant to families in Pomona struggling during the pandemic.
"Our students were in need of caring adults and modeling what they can do to support their neighbors and peers," Martinez said. "P-Town's work is much appreciated."
Categories: