Two governors, 104 graduates highlight WesternU-Oregon Commencement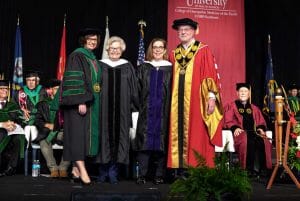 Two Oregon governors provided encouragement and inspiration to the 104 graduates of the College of Osteopathic Medicine of the Pacific-Northwest Class of 2019.
The ceremony concluded Western University of Health Sciences' 2019 Commencement exercises, presided over by President Daniel R. Wilson, MD, PhD. WesternU awarded 1,071 degrees to graduates of nine colleges, raising the University's alumni total to 16,469.
The WesternU Commencement ceremony in Lebanon, Oregon brought together current Oregon Gov. Kate Brown and the first female governor in the state's history, Gov. Barbara Roberts.
"This morning represents a truly historic moment, as we are honored by having the only two female governors of the state of Oregon on our stage together today," said COMP Dean Paula Crone, DO '92. "In fact, this may be the first time this has occurred on any university commencement stage across the country. Both of these women have served as role models and as examples to many of us. Their influence and their impact are far-reaching."
Brown earned her undergraduate degree from the University of Colorado-Boulder. She moved to Oregon to attend the Northwestern School of Law at Lewis and Clark College, where she received her JD degree and a Certificate in Environmental Law. Prior to serving as Oregon's 38th governor, she was Oregon Secretary of State, where she was a leader in increasing government transparency and accountability. Her niece, Meagan Smith, is a member of the DO Class of 2019.
"COMP-Northwest has impressed me as a truly special place, and I'm not just saying that because my niece is among today's graduates," Brown said. "This is a place where, through a potent mixture of caffeine, adrenaline and perspiration, you are transformed from a regular person into a doctor of osteopathic medicine. The way forward is illuminated by this noble calling: to preserve and improve the life and health of people."
The graduates' training has taught them that sitting on that crunchy exam table paper is a whole person, someone with a job, a family, and their own worries and dreams, Brown said.
"Maybe they come to you in pain. Maybe they carry scars from a complex past, but they come, as all human beings do, seeking hope. For the future, for themselves, for their loved ones. They are looking at you," she said. "You depart these halls today into a world that desperately needs your brains, your energy and your dedication to create a more ethical, compassionate, and inclusive world. Health care is a huge part of that."
A shining example of someone who changed the world is Oregon State Sen. Alan Bates, DO, Brown said. He was tireless, working Monday through Thursday in the Legislature and then tending to patients Friday through Sunday.
Bates, who died in 2016, worked diligently to pass a bill creating Oregon's Coordinated Care Organizations (CCO), which work to mend gaps in the health care fabric and stitch them back together, Brown said.
"Preventative care is cheaper, it's easier and it's smarter," Brown said. "In addition to being the right thing to do to serve our patients, the CCO model saved taxpayers an estimated $2 billion over the last five years. The number of ER visits has plummeted, and the number of prenatal visits has jumped to 95 percent, which is unheard of. There is no question that one dedicated person with good ideas can change the world. Senator Bates was that person. And so are you.
"Senator Bates showed us that a doctor can be many things. Most importantly, he showed us what can be done when we pay attention. When we listen to each other. When we care for one another," Brown said. "So go out there and relentlessly inflict good."
Oregon's 34th governor, Barbara Roberts, gave the keynote address. Roberts was elected in 1990, becoming the first woman governor in Oregon and one of the first 10 female governors in the nation. She had previously held public office for 24 years, including as a school board member, community college board member, county commissioner, Oregon State representative, and Oregon Secretary of State.
Her address focused on the issue of personal courage. Her older son, Mike, who is autistic, grew up in the mid-1960s during a time when his disability meant he had no right to a public school education.
Every week, Roberts took one day off to travel to the Oregon capitol to advocate for her son. After six months, her hard work resulted in Oregon passing the first special education rights law for children with emotional disabilities in the U.S.
"I had changed my son's life and changed his future. My new law – Oregon's new law – changed the lives of hundreds and eventually thousands of Oregon's children and their families. And my own life was never the same," she said.
Democracy is not a spectator sport, Roberts said, and although most of us don't necessarily sense much courage buried within ourselves, an opportunity to demonstrate courage might be waiting just around the next corner. She then quoted Dr. Martin Luther King Jr.: "The ultimate measure of a person is not where they stand in moments of comfort and convenience, but where they stand at times of challenge and controversy."
"Believing those words has changed my life. So – I speak out. I advocate. It is not because I am a former governor. It's because I'm a current citizen," Roberts said. "So today, I encourage you, I urge you, to be ready and willing to stand up and speak out, and when needed, to take a risk. Take a risk to create a community, a state, a nation that is more humane, more safe, more inclusive, and more honest. Don't be afraid to rock the boat a little. Don't fear to color outside the lines occasionally. Understand what it means to have history be your judge."
"As I said in my inaugural address as governor: 'Each generation has but one chance, one chance, to be judged by future generations, and this is our time.' And now – this is your time," Roberts told the graduates. "Make a difference. Make us proud. Be the finest of doctors. Be the finest of citizens."
"It's special that we have the opportunity to see both of them here," said COMP-Northwest graduate Shauyaun Azimi, DO '19.
Azimi grew up in the Portland area and wanted to come to WesternU-Oregon because of its family atmosphere. Reaching this milestone was hard to describe, he said.
"It's really tough to put into words, just because of the amount of work you put in for four years, all culminating in matching into residency and one day of graduation. It's over all of a sudden," Azimi said. "Seeing faculty and classmates here one final time and knowing what we've all gone through together makes it really special."
Lebanon resident Morgan Wimmer, DO '19, was recognized as the 500th graduate of COMP-Northwest. She left Lebanon to attend State University of New York at Potsdam, graduating in 2014. Leaving for college and then returning after WesternU-Oregon opened allowed her to see the difference the university made in the community.
"I see the economy booming. I see kids becoming interested in science," Wimmer said. "I see so many more charity activities. It's wonderful. I don't think they even realize how much they've done for Lebanon."
Her grandfather, Robert Wimmer, MD, was a huge inspiration for her.
"Watching him throughout his practice years, and even now in retirement, how much he contributes to the community, I look up to him a lot," Wimmer said. "I always knew I wanted to do something that helps other people. This is the chance for me to do that directly."