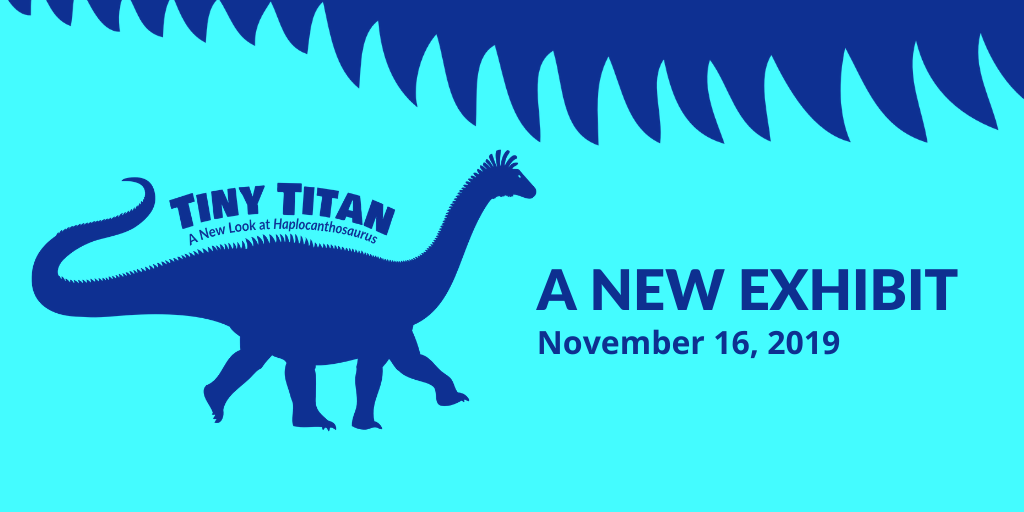 By Brittney Stoneburg, Western Science Center
A new temporary exhibit is about to arrive at the Western Science Center. Tiny Titan: A New Look at Haplocanthosaurus opens to the public on November 16, 2019 and will feature the scientific research of local paleontologists from Western University of Health Sciences.
Dr. Mathew Wedel and Dr. Thierra Nalley from WesternU's College of Osteopathic Medicine of the Pacific and Dr. Jessie Atterholt from WesternU's Graduate College of Biomedical Sciences are developing the Tiny Titan exhibit in conjunction with Western Science Center staff based on research they have conducted on Haplocanthosaurus, particularly on its air-filled vertebrae. The project started with Dr. Wedel's collaboration with Dr. Jessie Atterholt, but now also includes WesternU Clinical Assistant Professor of Radiology Dr. John Yasmer, and Gary Wisser of WesternU's Center for Excellence in Teaching and Learning (CETL). The exhibit will feature fossils on loan from the Museums of Western Colorado that are part of this continued research.
Members of the group of animals known as sauropods (commonly referred to as "long-neck" dinosaurs), Haplocanthosaurus lived millions of year ago during the Late Jurassic in what is now the American West. Around the size of a full-grown elephant, Haplocanthosaurus was smaller than other commonly known sauropods like Brachiosaurus. Using CT scanning and 3D modeling, WesternU scientists have been learning more about this unique dinosaur and its place in the fossil record.
"Paleontology always involves exploration, because every fossil is a new window into the past," says Dr. Mathew Wedel. "This specimen of Haplocanthosaurus has been especially surprising, and we're excited to share what we've learned through this exhibit."
Tiny Titan: A New Look at Haplocanthosaurus is the latest addition to the museum's continued efforts to make scientific research conducted in the Inland Empire easily accessible to the public.
"Museums are one of the primary venues for scientists to show their works to the public, but very few scientists work for museums or have easy access to museum displays," says Dr. Alton Dooley, the Western Science Center's Executive Director. "We plan for this exhibit to be the first of many in which the Western Science Center serves as a bridge between researchers from other institutions and the public."
Admission to the Western Science Center is $8.00 for adults, $6.50 for seniors 62+, $6.50 for students 13-22 w/ID, $6.00 for youth 5-12, under 4 years old is free, and Active Military (individual) w/ID is free. Tiny Titan: A New Look at Haplocanthosaurus will run until spring 2020.
The Western Science Center is at 2345 Searl Parkway, Hemet, California 72543.