Stunning mural made by WesternU COMP students unveiled in the Pumerantz Library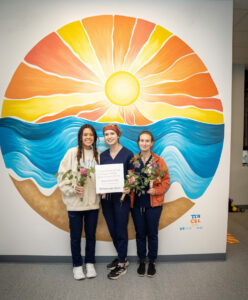 Western University of Health Sciences revealed a mural Wednesday, Oct. 11, 2023, in the Pumerantz Library, hand painted by three College of Osteopathic Medicine of the Pacific (COMP) students.
The mural, titled "Solar Solace, 2023," was created by second-year COMP students Christiana Kontaxis, Trina Nguyen and Jacklyn Vainshtein. The mural is housed in the Wellness Room on the second floor of the library.
"We wanted a portal to somewhere tranquil, somewhere peaceful, somewhere warm, where students can look at it and be transported," said Kontaxis. "Then it also worked really well for the wellness room because that is sort of part of mental illness and well-being, so being able to take a break, take a moment, have that space, felt important."
Kontaxis said that because the mural has a transportive quality, they chose to paint the sun, water, and the beach.
"In my experience, I have done murals before and it is a really wonderful way to give back to your community and help beautify it," said Kontaxis. "But we also get sort of a therapy of painting and the enjoyment of painting, so it's a very reciprocal kind of project to do."
Pumerantz Library Director Karoline Almanzar, MLIS, said this is a place for everybody to unwind and relax.
"It's a place for students to just take a deep breath and just take a minute from the rigors of their studies, their personal life, everything that's going on," she said.
Almanzar thanked the students for the time they invested into creating the beautiful mural.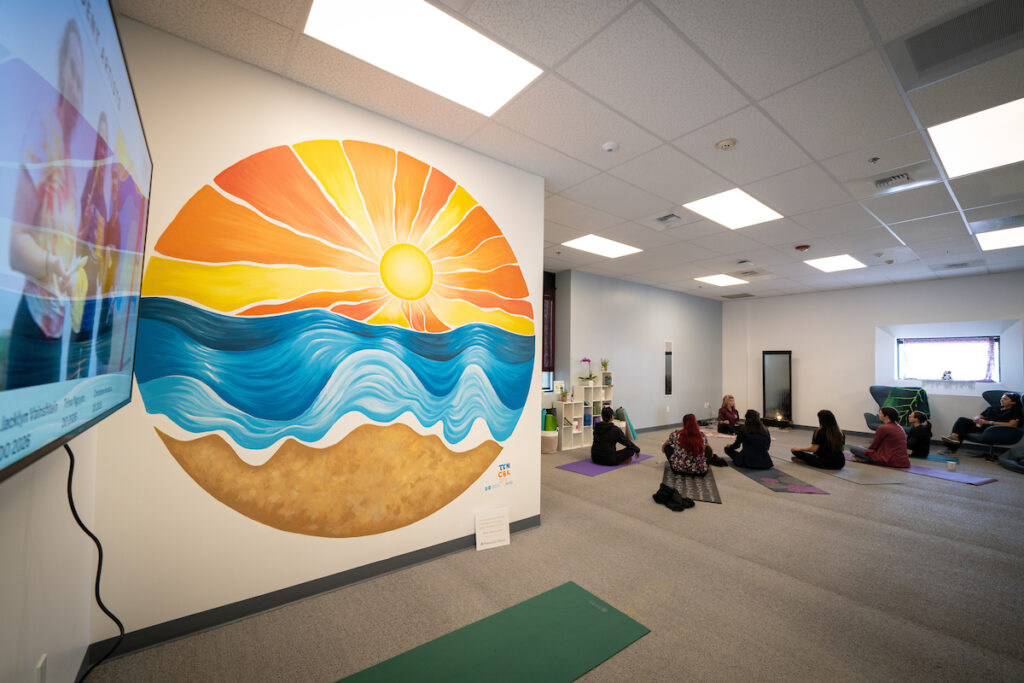 The mural started with conversations between the library, the Executive Student Government Association and MedWell Wellness to develop the Wellness Room in the library. Retired COMP Associate Dean for Academic Affairs Susan Mackintosh, DO, MPH, recommended that a mural would be a wonderful capstone project for H-art of Medicine Track, part of the Longitudinal Tracks program, which second-year students are required to complete.
The H-art track focuses on humanistic aspects of health care for both the clinician and the patient by exposing students to the concepts of the healing arts with some of the other pertinent topics in medical humanities.
After the mural reveal celebration, MEDWell Wellness Coordinator Crystal Rivera led a meditation session.