Sheri Bowlin-Houston is following in the footsteps of her mother, dean of the College of Allied Health Professions Stephanie Bowlin, PA, EdD.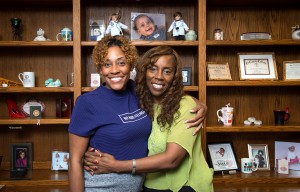 Sheri, 33, became a student in August 2015 in the Master of Science in Health Sciences (MSHS) Community Health Education (CHE) track at Western University of Health Sciences.
With a lot of advice and encouragement from her mom, Sheri entered the CHE track believing she could "change the world."
"I said to myself that I can do this, and I got excited," Sheri said. "In the Community Health in Education classes, it's fascinating learning things I never knew and hadn't learned before. Being a student at WesternU, I'm finding out my one little self can do major change in the world and really change some things."
Post-graduation, Sheri would like to develop an Inland Empire-based rehab program to help people overcome addiction. Sheri is currently a coordinator of the dinner program for Pomona Homeless Outreach Program, a club at WesternU.
The steps started early for Sheri. At the age of 7, her mom would bring her to campus. Sheri would often be a "patient" during one of the hands-on lectures in Swift Hall, in what is now known as the Rodney P. Wineberg Center.
Like her mom, she studied at California State University, Dominguez Hills, and like her mom she will receive a master's degree in health sciences from WesternU.
Sheri and her husband, Jerrick, have a 9-month-old daughter, Shalie.
Sheri said she and her mom are close. They shop, eat and talk like they are best friends. Her mom helps watch her daughter on Sundays, so Sheri can study. Mom also is her inspiration. "The woman is unstoppable, and that's where she inspires me," Sheri said. "If you ever felt you could not accomplish something, you look to her and she did it, and she did it well."
Dr. Bowlin says she's honored her daughter will graduate from the same program she did in 1992.
At Commencement in May 2017, Dr. Bowlin will hood her daughter alongside WesternU Interim President Gary M. Gugelchuk, PhD, with her husband and daughter nearby on stage.
Categories: