Western University of Health Sciences (WesternU) and the School of Arts and Enterprise (SAE) celebrated a partnership that will benefit the children of Pomona with the creation of a community and youth engagement space.
SAE held a ribbon-cutting ceremony and open house on Feb. 12, 2022, for SAE Create: A Downtown Pomona Community Space, which is housed on the first floor of WesternU's Anderson Tower on Second Street and Garey Avenue in downtown Pomona. SAE's partners at Day One will provide the community space's inaugural programming, including a youth advocate program, a drop-in after-school study zone and community workshops.
SAE Executive Director Jon Gundry said he has been talking with WesternU about a partnership since he arrived about three years ago.
"We're really pleased to have this partnership have some tangible outcome and we're very excited to see where it's going to go in the future," he said. "It helps us expand our mission and vision of becoming an integral part of the downtown Pomona community. We know this is going to be a benefit to the kids and the community in downtown Pomona."
The School of Arts and Enterprise, a State Board of Education authorized Public Charter High School, serving grades sixth through 12th grade, embraces and encourages artistic creativity and academic excellence. Established in 2003, it is a place for aspiring young artists to refine their skills and flourish and for budding entrepreneurs to develop their expertise. SAE Create is open to all children, not just SAE students.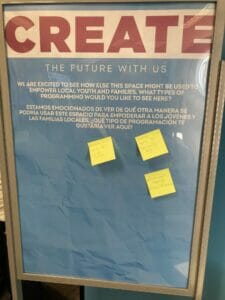 SAE Create is encouraging visitors to post their suggestions for programing and activities on "idea boards."
"We want to hear about the needs in the community and expand our relationship with WesternU," said SAE Director of Student Outreach and Engagement Alexandra Oliva. "We want to organically create a space that responds to needs of the community. We're excited what the future of the space might hold."
The ribbon cutting ceremony was led by Monique Manzanares, President and CEO of the Pomona Chamber of Commerce. Among the many guests were officials from SAE, WesternU and the Downtown Pomona Owners Association, Pomona City Councilman Victor Preciado, and representatives from the offices of Los Angeles County Supervisor Hilda Solis, state Assemblyman Freddie Rodriguez, and Los Angeles County Assessor Jeff Prang.
WesternU Chief of Community and Governmental Affairs Jeff Keating, MA, said this opening was the culmination of several years of planning and collaboration. There is a natural intersection between the School of the Arts and Enterprise's mission and the mission of WesternU, he said.
"They are strong in the arts at SAE and there is a surprisingly strong arts community at WesternU. You don't necessarily think of doctors and scientists as being pianists, violin players and singers, but we have a raft of them," Keating said. "So I'm very excited to see where this partnership goes. It's starting out on a great foot and we're very excited to be able to use this space for such a community resource. Thank you all for making this happen."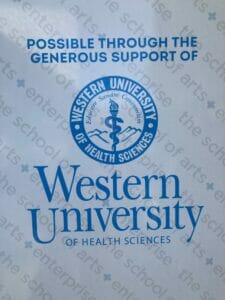 Ed Tessier, one of the founders of SAE, said this space had long been a dark window in downtown Pomona going back to when Home Savings owned it. Good news came when WesternU bought the building and made the renamed Anderson Tower an important part of its campus, he said.
"It was, I thought, a matter of time before something came together to make this space an integral part of their campus and the surrounding downtown neighborhood as well," Tessier said. "To have SAE lead it with Day One is a dream come true. Thank you to all the people who had a hand in putting this together, and especially to Jeff and WesternU for really shepherding it for us."
WesternU President Designate Robin Farias-Eisner, MD, PhD, MBA, officially begins his tenure as WesternU President on March 1, and he is already meeting with many people within the University and in the community. He visited SAE Create during the open house to talk with SAE officials.
"Pomona has such a rich history and there is such a close relationship with the educational facilities and WesternU being located here," he said. "I think it's our job, duty and honor to engage in a larger way with the community than we have in the past. I know Phil Pumerantz, WesternU's founding president, was a strong advocate of community engagement and worked hard to do that. And I want to pledge to you all that this is very much in accordance and commiserate with my vision to engage."