Scholarship profile: College of Dental Medicine alumna Kylee Homecillo, DMD '23
June 25, 2023
Read 1 mins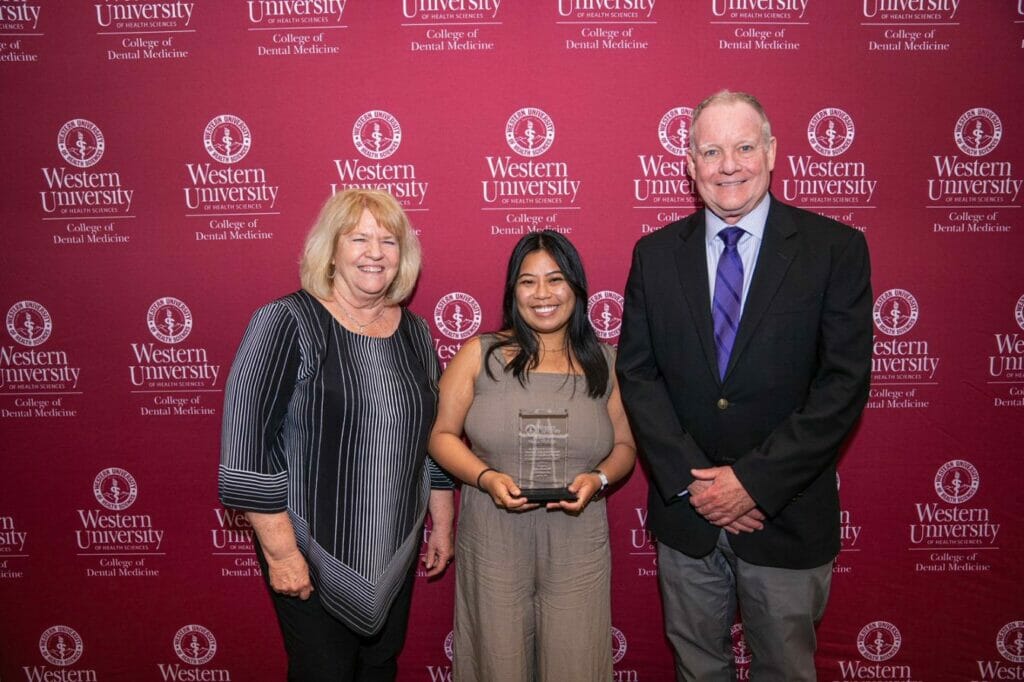 Western University of Health Sciences College of Dental Medicine graduate Kylee Homecillo, DMD '23, is the first recipient of the Steven W. and Susan Y. Friedrichsen Endowed Scholarship.
"To be the inaugural recipient of this award is truly an honor," Dr. Homecillo said. "Throughout my academic career at WesternU, I held multiple leadership roles in various extracurricular and community service organizations. I am passionate about creating positive changes for the community and serving others. I am so thankful to receive this award and be recognized for the work that I have done during the past four years."
Steven W. Friedrichsen, DDS, retired as CDM dean on July 1, 2022, after more than 10 years of service at WesternU. Throughout his career, Dr. Friedrichsen has devoted his life to students and underserved communities. His engagement in political activities and advocacy has helped shape the profession into what it is today. Steve and Sue Friedrichsen have graciously hosted numerous college events, including but not limited to the Dean's picnics and barbecues, ADEA receptions, and holiday events. In addition to Sue's hospitality and her philanthropy, she has always been Dr. Friedrichsen's number one support person and an integral part of what makes up the special family environment at CDM.
"Sue and I were humbled and honored by everyone who established and supported the scholarship in our names," Dr. Friedrichsen said.
Dr. Friedrichsen served as CDM dean for most of Homecillo's time as a student. Her first interaction with him was during her first day on campus as a pre-dental student going through interview day. He provided a tour of the simulation clinic and a Q&A session with her and other prospective students.
"Throughout my academic career, I worked with Dr. Friedrichsen while I was the president of the American Student Dental Association (ASDA). As president, my board and I faced many adversities because we were leading our organization through the peak of the pandemic," Homecillo said. "Dr. Friedrichsen supported us and our events, which empowered us to stay resilient during uncertain times. I am very grateful for the interactions I shared with Dr. Friedrichsen. He was instrumental throughout my dental school experience in all aspects – from the very first time I stepped on the campus until the moment I graduated."
Among the criteria for the scholarship is demonstration of leadership and community service. Homecillo said she has been passionate about being a leader in academic, extracurricular and community service organizations.
"Every activity I am engaged in on campus or in the greater community is geared towards one goal: serving others," Homecillo said. "Whether I am guiding students through challenging courses, helping students navigate organized dentistry, participating in student government, or promoting oral health education – my undertakings positively impact student lives and community members. Advocacy is at the heart of everything I accomplish and each of my commitments has given me insight on how to adequately represent the needs of diverse communities."
Both Dr. Friedrichsen and his wife could not have been more pleased with Dr. Homecillo's selection as the first recipient of the scholarship.
"She embodies everything that we view as integral to the future of the profession," said Mrs. Friedrichsen.
"At our lunch with her, to hear her plans for the future, it is evident she will continue to lead while serving those in need," added Dr. Friedrichsen.
Overcoming adversity, learning the clinical applications of dentistry and discovering her passion in serving others has allowed her to grow into an active and compassionate leader in the community, Homecillo said.
"The various skills I acquired along the way will carry over into my future work as a dentist in which my philosophy will be to highlight ability rather than inability and empower individuals to take ownership of their health care," she said. "The joy of changing a person's life through dentistry is one of the intangible rewards that cannot be measured. My experiences in serving the school and the community fuel my aspirations to use my education to support, heal, and serve people through dentistry."