Renowned speaker shares personal, professional experiences transitioning gender
October 26, 2018
Read 5 mins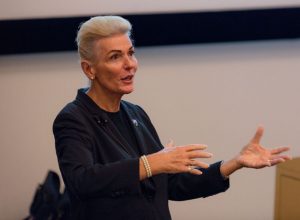 Anne L. Koch, DMD, presented a series of lectures and talks at Western University of Health Sciences on treating transgender patients, supporting LGBTQ professionals and encouraging women to become entrepreneurs. She offers a unique perspective on these topics having earned her DMD degree and Certificate in Endodontics from the University of Pennsylvania, holding multiple patents and starting a successful technology and development company, and having transitioned gender at age 63. 
"I have had the ability to look at gender transition through two different prisms. One is that of a patient. The other is looking as a health care provider who has seen more than 32,000 patients in their career," Koch said. "What I have seen at times have been exhilarating and at other times disturbing. This is so much an education issue and I feel I can offer a unique perspective." 
WesternU's College of Dental Medicine invited Koch to campus and organized two days of lectures and open forums with students and faculty across all disciplines. Koch talked about her youth with fondness and pride, including being the youngest varsity starting football player on Long Island and the second person in the history of her high school to be elected to Honor Society as a sophomore. 
"There are a lot of trans people who will not talk about anything pre-transition," Koch said. "I understand that and I completely respect that. For me it's a different situation. I'm very proud of how I conducted my life, and I have no problem sharing the good aspects and some of the funny aspects." 
Koch first interacted with transgender patients at a Philadelphia clinic shortly after graduating from the University of Pennsylvania. A young woman had a Department of Public Assistance card with a man's name on it. Koch asked her if she had her brother's card. She said, matter-of-factly, "No, that's me." 
"I was impressed with her confidence," Koch said. "That is where I really started to learn about how you treat these patients. One year out of dental school, I was stunned at the ordeals these people had gone through with other health care providers. 
"It's an honor to be a health care provider. It's something you strive for," Koch added. "We are able to do things that other people can't do. Everyone here, whether you're a medical student, dental student, nursing, whatever, I want you to go forward in your careers having pride in being a health care provider and understand the special relationship we have with our patients." 
Koch joined the Air Force and was stationed in Japan, becoming an in-demand model and actor. She showed a photo of Ken Koch at age 36 wearing a tuxedo and with a mustache. 
"When I think of Ken Koch, this is the image I think of," Koch said. "I think of this guy as my twin brother. He's like my twin, a different part of my life." 
Throughout her life, the feeling of wanting to be a woman never went away, Koch said. The turning point came in May 2011, when Koch was diagnosed with squamous cell carcinoma. 
"Mortality hit me like a ton of bricks," she said. "And that's very common with older trans people. I have to do this before I pass on." 
Koch went to "the best plastic surgeon in Boston," Dr. Jeffrey Spiegel. She showed photos of the aftermath of two facial surgeries, including blepharoplasty, neck lift, cheek implants, lip lift, and rhinoplasty.  
On March 25, 2013, Koch underwent gender confirmation surgery. All of her friends abandoned her initially. About four years later, one friend, an endodontist from Long Island, reached out to her. She decided to respond with kindness instead of questioning why they left in the first place. 
"I was thrilled to have this person back in my life. And I let this person know that I understand, especially now, how challenging and difficult this can be. But I'm so happy to have you back as a friend," Koch said. "Within two weeks, another friend from Florida came back. Probably within six months, 99 percent of all my friends came back. They just didn't want to be the first, especially men, because this is new, uncharted territory. But I was smart not to burn bridges. The same with family. I had to give my family some time before they came around. 
"Physically transitioning gender to me was not a problem," she added. "Transitioning to a woman, I got that 100 percent right. I got the relationship part 1,000 percent wrong. I didn't realize how toxic it was and how doing something like this profoundly affects so many people." 
Koch quoted Dr. Maureen Osborne, a licensed psychologist specializing in gender identity issues, who wrote, "I believe that the trans community is vast and varied, with all manner of perspectives represented. The main thing they all share is the struggle to be authentic, to be known, to be heard and received. It is truly a civil rights struggle, and in the larger frame, a paradigm change for the way we think about gender." 
"If you speak to trans people, the harassment and the ordeals they had with the health care industry in this country is appalling," Koch said. "I'm at the end of my career. You're all just starting your career. You have to treat these people with the dignity and the respect that we should be treating all patients. No one is expendable. No one is disposable." 
She encouraged students to be inclusive. Have forms that reflect different identities. Offer unisex or gender-neutral restrooms. 
"Create a welcoming environment," Koch said. "Ask patients in a polite way how they want to be addressed. Don't assume anything. This is both for in person and on medical forms. Treat them with respect. Just ask. Be decent and respectful. Most of these people are very protective of their former life. Don't pepper them with trans questions." 
Koch is an adjunct assistant professor at the Penn Dental Medicine Department of Endodontics. She is happy to take on the role of mentor to new generations of health care providers and entrepreneurs. 
"I enjoy the company of young people and their enthusiasm," Koch said. "For me at this point in my life, being involved with young people, whether it's dental students or medical students, is incredibly satisfying to me. It helps validate everything I've done."
Categories: