Reimagined Pumerantz Learning Center designed with students in mind
October 2, 2022
Read 4 mins
Walk into the reimagined Pumerantz Learning Center (PLC) at Western University of Health Sciences in Pomona, California and you will see a dramatic transformation.
Most notably, look to the right as you enter and you will see WesternU's motto, "To Teach, To Heal, Together," nestled among a custom-designed moss wall. Collaborating with Public Affairs & Marketing and Facilities, the idea for a moss wall emerged as a way to make a statement when people enter the building.
"I wanted something unique, a real showstopper focusing on nature and sustainability that well represented the unity of purpose of WesternU," said Karoline G. Almanzar, MLIS, Director of the Harriet K. and Philip Pumerantz Library. "I wanted the PLC/Library to be known as a place to come for inspiration and innovative thinking."
From the openness of the desks and sofas to the break area with microwaves and coffee makers to the adaptable learning spaces, the PLC has been updated and upgraded based on students' suggestions.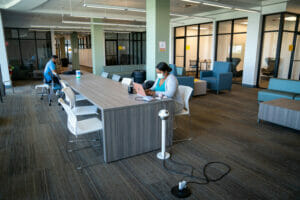 The new PLC/Library concept was first generated by students during a master plan survey. Students wanted a modern library with many different amenities. In more recent student survey feedback, students also expressed a desire for something restful and peaceful to inspire relaxation and learning in the PLC.
"Students want a home away from home," Almanzar said. "When I discussed this with students, they wanted a place where they feel comfortable, where they could have access to amenities that would allow them to remain in the building and study for longer periods of time."
Now the PLC provides a comfortable place to study independently or with a group. There is a Wellness room and second-floor restrooms with showers.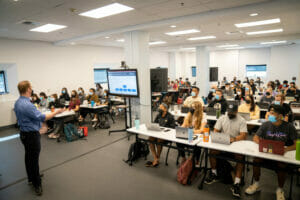 The PLC is home to the Harriet K. and Philip Pumerantz Library, Learning Enhancement and Academic Development (LEAD) and counseling services from Anna Couch, PhD, MA, MFT, and Luis Orozco, DSW, LCSW. The center also features multipurpose flex rooms that are open for reservations and can be used for meetings and as classrooms. The tables, chairs and white boards are movable, and the room is adaptable to whatever configuration is needed. Study rooms are similarly adaptable to group or individual study, tutoring and mentoring.
"The PLC is one place that meets several needs – academic, intellectual, and student support," Almanzar said. "I want them to feel supported with all these services."
The Pumerantz Library is transitioning into an all-digital or "smart" library.
"Learning needs are changing over time," Almanzar said. "We need to continually adjust to the fluid learning environments in providing the best medical education in the 21st century."
The library offers thousands of electronic and print books as well as journals. These books and select journals are housed in the PLC basement.
Students want faster access, and WesternU's librarians know how to efficiently find articles and access other libraries' collections. Digital learning assets, including access to databases, allow for faster access and learning from anywhere at any time.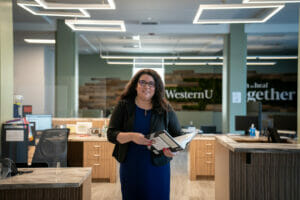 "Library staff often receive kudos for our rapid turnaround for articles," Almanzar said. "Our library liaison program provides librarian services to each of the colleges to make sure we are addressing their specific needs."
One constant for libraries is that people are looking for credible information, Almanzar said.
"Our role as librarians and as a library hasn't changed. That basic task we provide is the same, but instead of handwritten notes in an index a long time ago, we manage and help navigate the large amount of scientific information available and ways to access it. We are information literacy experts still serving as that bridge, that connection between people and information."
Categories: