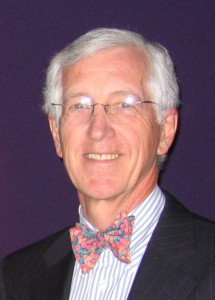 W. Paul Brown, DDS, FICD, FACD, a pioneer in virtual reality, will serve as the keynote speaker for the seventh annual Dr. Philip Pumerantz Distinguished Lectureship Tuesday, October 27, 2015 at Western University of Health Sciences.
His topic will be "The Impact of Virtual Reality on Health Science Education." The lectureship will begin at 7 p.m. in WesternU's Health Education Center Lecture Hall I, 701 E. Second St., Pomona, Calif. 91766. The lecture will be streamed live here: http://www.westernu.edu/lecture/index.html.
Brown is Consulting Associate Professor in the Division of Clinical Anatomy, Stanford School of Medicine. He practiced endodontics in Palo Alto, California for many years and was a Clinical Associate Professor at the University of the Pacific School of Dentistry and Clinical Assistant Professor at the UC San Francisco School of Dentistry. He is a Fellow of the American College of Dentists and the International College of Dentists.
He is currently a digital imaging researcher and, until recently, was the co-director for two Stanford University undergraduate courses: Biomedical Visualization and Procedural Based Head & Neck Anatomy. He was also director of a summer intern program at Stanford University for exceptional high school and college students.
Brown developed systems that made possible the Anatomage Virtual Dissection Table, which is the centerpiece of WesternU's J and K Virtual Reality Learning Center.
"The advances in imaging and imaging reconstructions (virtual reality) are progressing at a remarkable rate," Brown said. "We now have the ability to access and make treatment decisions from anatomical information that was previously inaccessible. In addition, anything that we can visualize, we can measure. So we have the ability to digitally analyze and record patient data and therefore improve their medical care."
Brown has been the Principal Investigator on 11 NIH grants involved with medical imaging, virtual reality and medical/dental surgical simulations and the development of curriculum authoring platforms. He has published three electronic atlases of anatomy used around the globe: "A Dental Anatomy and 3D Interactive Tooth Atlas," "Electronic Atlas of Human Occlusion & the TMJ," and "3-D Interactive Atlas of Skull Osteology." He lectures extensively internationally on the use of anatomical virtual reality models for research and education.
Brown was the dentist for the San Francisco Zoo for 20 years and was co-director of the endodontic part of the general dental residency program at the Palo Alto VA hospital for 10 years.
Drs. Daljit and Elaine Sarkaria of Orange established the lectureship in 2009 in honor of WesternU's founder and president emeritus, Dr. Philip Pumerantz, as part of a $5.1 million pledge to WesternU. The Sarkarias dedicated $100,000 of their pledge to create the lectureship to encourage and foster exemplary medical research, education and high-quality patient care.
Categories: