Physician assistant named Best Health Care Job in the U.S.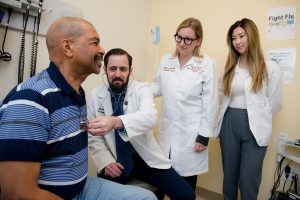 Physician Assistant (PA) is the top-ranked health care job in the United States, according to a recent report compiled by U.S. News and World Report (USNWR) titled Best Health Care Jobs 2019. 
The Bureau of Labor Statistics has projected that more than 39,000 PA jobs should become available between 2016 and 2026, which is a 37.3 percent employment growth for the PA profession.  
The median salary for PAs is $104,860 while the profession's unemployment rate is 0.8 percent. In another survey by USNWR, the PA profession ranked No. 3 in the top 100 Best Jobs in America.
"Since 1990, WesternU is proud to continually educate approximately 95 highly-qualified PAs each year, contributing to the PA profession that is identified as the 2019 No. 1 best health care job in the U.S.," said Roy Guizado, PA-C, MSHPE, Department Chair for PA Education, part of WesternU's College of Health Sciences. "As the baby boomer generation retires and the physician shortage worsens, PAs are one of the most sought-after professions in health care."
WesternU offers degree programs for several other Best Health Care Jobs in the top 10, including No. 2 dentists (College of Dental Medicine), nurse practitioners (College of Graduate Nursing), pediatricians, obstetricians and gynecologists and physicians (College of Osteopathic Medicine of the Pacific and COMP-Northwest). 
"The dental profession – including general dentists and specialists that are represented by the U.S. News and World Reports' annual report – continues to be a great opportunity to provide valuable health care services and build a solid career," said College of Dental Medicine Dean Steven Friedrichsen, DDS. "We are pleased that USNWR has once again recognized various components of dental medicine as important contributors to the improved overall health care."