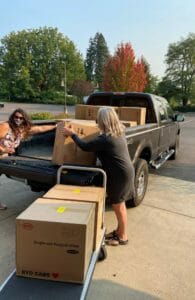 Western University of Health Sciences has secured Personal Protective Equipment (PPE) for its College of Osteopathic Medicine of the Pacific-Northwest students to last them through their clinical rotations this academic year.
WesternU Community & Governmental Affairs Manager Michelle A. Steinhebel, MPP, and
Sean Tate, a lobbyist for WesternU Oregon, worked with several state and county legislators to obtain this PPE for WesternU students. Oregon provided 3,500 N95 respirator masks and 17,500 surgical masks for third- and fourth-year osteopathic medical students completing their rotations.
"Keeping medical students safe on clinical rotations is a high priority for the college, but it is also a priority for the state, which is why I suspect our PPE ask was granted," Steinhebel said. "A lack of essential PPE for COVID-19 could result in a rotation not being completed or even offered, and the state wants to ensure we have future physicians in the pipeline. WesternU COMP-Northwest recruits heavily out of Oregon. I believe this PPE from the state to our medical students is an investment in Oregon's future physician workforce."
"We're grateful to the state and county representatives who facilitated discussion and follow- through on the PPE request for the University," said WesternU Chief of Community & Governmental Affairs Jeffery Keating, MA. "Michelle and Sean are to be commended for doggedly staying on top of this issue over several weeks, and advocating for the health and safety of our students and for the health of the patients they will serve while on rotation."
Oregon state Sen. Fred Girod (R-Scio) and COMP-Northwest students Taylor Bundy and Omar Rachdi were also integral in advocating for this material.
"This year, I have been rotating all over the state of Oregon and did one rotation in Michigan for an Acting Internship. I've predominately used N95s and surgical masks for PPE to keep myself – and more importantly others – safe during this crisis," Bundy said. "We are extremely grateful that the state of Oregon came through and provided the PPE that students need in order to continue doing their jobs. If we cannot protect ourselves, it would be much more difficult to provide care for others."
"In the hospital setting, anytime a patient has an indication for more Personal Protective Equipment (PPE) (C.Diff  infection, ESBL resistance, COVID-19, etc.), I worry about the level of care they are receiving. Studies show that patients who have indications for PPE to be worn by their health care team receive worse care and have medical issues go unnoticed," Rachdi said. "Whenever I went into a patient's room who was suffering from COVID, I always did my best to connect with them and help them to feel safe and heard. Even though learning medicine during the COVID pandemic has been difficult, it will help me to be a more adaptable physician in the future and to always advocate for the best care for my patients."
COMP-Northwest also received 500 N-95s and 200 face shields from Linn County. Combined with WesternU's supply from its Pomona, California campus, this material from the state and county should ensure COMP-Northwest students on clinical rotations have adequate supply of PPE for the remainder of the academic year regardless if a site provides it or not, Steinhebel said.
"I am grateful to Gov. Kate Brown and our state for supporting our efforts to keep our students safe while they are on clinical rotations in Oregon," said COMP-Northwest Vice Dean John T. Pham, DO. "This supply from the state will equip our 200 COMP-Northwest students on rotation with PPE, keeping them safe and in compliance with COVID-19 regulations."