Oregon Governor Kate Brown visited with first-year medical students at Western University of Health Sciences' College of Osteopathic Medicine of the Pacific-Northwest today Friday, March 31, 2017.
After a speech to local business leaders, the governor met with the students to learn more about their experience at WesternU COMP-Northwest, then peppered them with questions about the university's environment and curriculum.
 "Did you all want to go medical school since you were very young?" she asked the group of 10 students.
"I switched careers and I started over," medical student Ryan Emery told the governor. Emery, from Cave Junction, Oregon, lists firefighter and environmental consulting and planning as past careers.
"Any others who had careers before coming to medical school?" she asked the student leaders. "Not like that," a student quipped to laughter.
The Q-and-A session was Brown's first trip to WesternU COMP-Northwest as governor, although she visited the campus previously as Oregon's secretary of state.
"I appreciate Governor Brown taking the time to visit COMP-Northwest and meet with our student leaders," said Paula M. Crone, DO, Dean of COMP and COMP-Northwest. "It is a great opportunity for the next generation of physicians to interact with their governor and community leaders."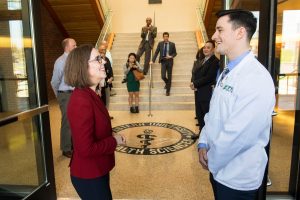 First-year medical student Max Mirande, formerly from Klamath Falls, was thankful to have the time with Gov. Brown.
"It was very exciting to have that personal face time with our representation and have her truly be interested in what we do here at COMP-Northwest," Mirande said. "It was great to share what we represent as WesternU COMP-Northwest, and give our backgrounds on where we want to go. I thought that was a personal and sincere interaction, and we all enjoyed it."
Before parting, Gov. Brown explained how the students are on the forefront of changing medical technology.
"I think you have chosen a really wonderful path, and the world is certainly going to change," she said in regard to technology. Brown explained that she had recently toured Microsoft and learned more about the company's HoloLens, augmented reality, and virtual reality.
"You could be replacing someone's hip and redesign the actual hip piece to fit that person's hip exactly. It's just extraordinary what technology will be able to do," she said.