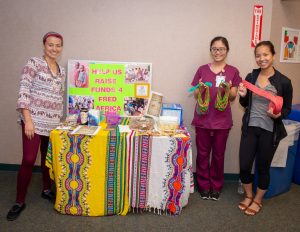 College of Graduate Nursing (CGN) students are raising funds to host a mobile medical clinic in Uganda to help 800 patients with their medical needs.
Contact MSNE student Yesenia Gomez-Castillo at yeseni.gomezcastillo@westernu.edu to buy raffle tickets to potentially win some great prizes.
As part of CGN's Global Health initiatives, MSNE students for the first time are participating in an international experience in Uganda August 11-20, 2018. This experience will provide students an opportunity to be more culturally competent and understand the concepts of social determinants of health and its impact on person, family, and community.
Fieldwork will focus on running a mobile clinic in the remote part of Uganda with local providers and training their village health workers to sustain healthy communities.
The CGN team includes Drs. Ivy Tuason and Ruth Trudgeon and six MNSE students: Yesenia Castillo-Gomez, Rica Jane Halili, Wendeline Joyce Young, Jasmine Kuo, Jeanet Perla and Jordan Smith.