California's lieutenant governor addresses Western University of Health Sciences' 2015 graduates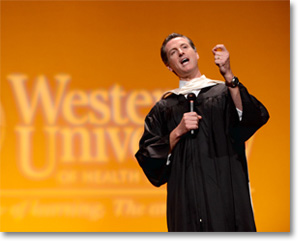 The world is at a "hinge moment" where technology, communication and capacity are intersecting to create new opportunities for leadership in health care and across society, the opening speaker at WesternU's 34th annual Commencement Exercises said Wednesday, May 20.
California Lieut. Gov. Gavin Newsom, a former San Francisco mayor and likely 2018 gubernatorial candidate, was the keynote speaker at the graduation ceremony for WesternU's colleges of Allied Health Professions and Podiatric Medicine. The ceremony was the first of five to be held May 20-22 at the Pasadena Civic Center Auditorium. WesternU will graduate more than 1,000 students in nine colleges and 21 degree programs during its exercises.
Newsom – who in a style atypical for WesternU Commencements grabbed the microphone from the podium and roamed the stage — told the 211 graduates (30 from CPM, 181 from CAHP) that they have an advantage over those from other universities: WesternU is the largest and most diverse graduate health sciences university in the nation, situated in the most diverse county in the most diverse state in the most diverse country in the world.
"We don't tolerate that diversity, we celebrate that diversity," he said. Applauding WesternU's, and especially President Philip Pumerantz's, commitment to humanism and improving the human condition, Newsom noted, "As Dr. Martin Luther King said, 'We are caught in an inescapable network of mutuality.' We are all better off when we are ALL better off."
But what does that mean in a world that changes so rapidly? How do we get to "better off" for everyone? Technology is part of the key, Newsom opined, but so is respect for collaboration, appreciation for the importance of communication, and acknowledgment that individuals are empowered to make change.
"We're in a hinge moment — going from something old to something new," he said. "Technology…you're at the front of that in health care. You're at the tip of that spear. What's your practice going to look like in 10 years? If you're not designing it for cooperation, you're not going to succeed. Your world will be people coming in who have self-diagnosed on the web, who are saying 'I crowd-sourced this. I got this. I know what you're going to tell me.'"
He then reminded the graduates that in 2005, New York Times columnist and author Thomas Friedman released "The World Is Flat," a treatise on how technology had "flattened" the obstacles and distances that once separated countries and cultures.
Though revolutionary 10 years ago, "The World Is Flat" made no mention of things we take for granted a decade later, and that underscore Friedman's points, Newsom said. "Facebook hadn't been invented. Applications were something you filled out to get into places like WesternU. A Twitter was a sound. 4G was a parking space. 'Skype' was a typo."
What this rapidly shifting landscape has created is opportunities for leadership within communities, Newsom continued, and WesternU graduates are better-positioned than most to seize the day. "The notion of communitarianism requires leadership, and leaders can be found anywhere. The pyramid is inverted. When we talk about great leaders, who do we talk about? We don't say 'Former prime minister Gandhi,' because he wasn't prime minister. It's not 'Former president Martin Luther King.' It's not 'Former pope Mother Teresa.'" Those people are identified as leaders not because of what office they reached, but because of what they represented, Newsom said.
It all comes back to the idea that one doesn't have to BE something to DO something, the lieutenant governor concluded. "Don't let life de-genius you. Step up, step in, and recognize your voice. Success is synergistic with environment. Create the conditions where success becomes irresistible.
"I want you to appreciate your chance to take advantage of this opportunity. The future's not in front of you. It's inside of you."