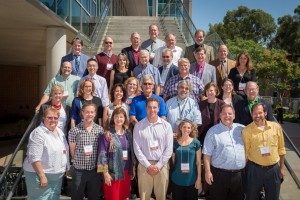 The American Association of Colleges of Osteopathic Medicine's (AACOM) Educational Council of Osteopathic Principles (ECOP) is meeting at the College of Osteopathic Medicine of the Pacific for the first time in more than 20 years.
 ECOP brings together the chairs of Neuromusculoskeletal Medicine/Osteopathic Manipulative Medicine (NMM/OMM) departments from osteopathic colleges nationwide to work on matters that concern the curriculum and the profession.
The purpose of the Educational Council on Osteopathic Principles is to discuss ideas pertaining to the teaching of osteopathic principles and practices for the member institutions of AACOM; present recommendations for the improvement of curriculum in these areas on behalf of osteopathic medical education to the Board of Deans; assist new and developing colleges of osteopathic medicine in developing and implementing sound curriculum in osteopathic principles and practices; and to further develop consensus in the teaching of osteopathic principles and practices, according to AACOM's website.
ECOP members arrived at WesternU Sept. 24. Their meeting will conclude on Sept. 26. COMP Dean Paula Crone, DO '92, welcomed attendees to campus and thanked them for their service.
"If you look at what we're doing in osteopathic medicine and the young men and women who are choosing futures in osteopathic medicine in astounding numbers, you can't help but be proud, and you can't help but feel our future is in really good hands," she said. "One of the reasons I feel like our future is in good hands is the work you are doing. Our osteopathic identity has always been critically important to us. I don't think it's ever been more important than right now, as we go through all the transition and transformations that are happening in health care today.
"Where that osteopathic identity gets instilled is right at the very beginning, as we start talking with our premed students about osteopathic medicine, as we're treating our patients and they are coming into contact with us, and the very first day of class, when they come in and they meet our OMM department," she added. "Our OMM departments across the country are instilling our philosophy, teaching the modalities and the treatment, teaching the importance of the osteopathic touch, and really setting the foundation for who we are as osteopathic physicians."