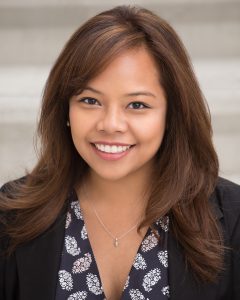 Jayzona Alberto, EdD, MSHS '13, was shaped by the totality of her experience at Western University of Health Sciences – as a student, leader, employee and scholarship recipient.
"It was an honor to be recognized as an East West Scholarship recipient and that the faculty and administration acknowledged my academic accomplishments and contributions to the University as a student leader," Alberto said. "Being a scholarship recipient immensely influenced my student experience at WesternU. The award motivated me to work harder as a student, encouraged me to return to my alma mater as an employee, and inspired me to give back to an institution that gave me so much."
Alberto enrolled at WesternU as a Master of Science in Health Sciences (MSHS) student in what is now the College of Health Sciences and soon thereafter became a graduate assistant in the College of Osteopathic Medicine of the Pacific (COMP). Alberto attributes much of her interest in medical education, medical school operations and assessment, evaluation and outcomes to mentors that she met as a WesternU student and employee. Then-COMP Dean Clinton Adams, DO, assigned projects that exposed her to the administrative side of medical school operations. She learned about leadership in higher education in class from College of Health Sciences Dean Stephanie Bowlin, EdD, PA, and then-Chair of the Department of Health Sciences Education Tina Meyer, DHSc, PA-C.
Alberto was a model student and student leader and remains a model alum, Meyer said.
"Jayzona exemplifies the MSHS program goals and contributions to the health care community. She is dedicated to finding real solutions to real challenges and is steadfast in her resolve to do her very best work at all times," Meyer said. "Jayzona blends creativity and pragmatism to generate truly novel innovations that have positive impacts on learners and educators alike. As a student and a colleague, Jayzona is every educators dream! We are so pleased with her success and look forward to celebrating her accomplishments for many years to come."
When Alberto graduated from the MSHS program with a dual concentration in Health Professions Education and Community Health Education, she accepted a position with the College of Dental Medicine. There she served as an Academic and Digital Media Manager in the Office of Academic Affairs. She and her colleague, Jorge Godinez, enhanced the College's use of ExamSoft, an online assessment software, which was used not just as a test-taking platform but as a mechanism for tracking student performance. ExamSoft was especially useful in the College's transition from paper to electronic grading of clinical exams. With the support of CDM Associate Dean for Academic Affairs Elizabeth Andrews, DDS, MS, and Director of Education Donna Guisado, MS, Alberto and Godinez began integrating various educational technologies to collect, analyze and report student performance data.
"In my master's program, I enjoyed classes on instructional design, curriculum development, assessments and evaluation methods, and what I learned in school translated into projects I worked on as academic manager," Alberto said. "By understanding student performance using data from exams and mapping those data points to clinical competencies, we could pinpoint areas of strengths and weaknesses for individual students or across a cohort. The ability to generate data this robust sometimes resulted in informing curricular decisions."
Alberto and Godinez authored multiple articles and presentations, including "Using ExamSoft to Design a Virtual Station-Based Clinical Competency Assessment," "Electronic Rubric Grading: Establishing a Foundation for the Future" and "Transitioning from Paper to Electronic Grading."
"I was energized by the scholarship aspect of my role at CDM," Alberto said. "Jorge and I had the opportunity to present on our innovative approaches to assessment all over the world."
While working at WesternU, Alberto also earned her Doctor of Education degree from the University of Southern California. She now works in education development at Stanford University, where she consults with faculty on curriculum development, educational formats, evaluation, and outcomes for continuing medical education courses.
"From the minute she joined our team you could see that her drive and determination would take her far," Andrews said. "She was forward thinking and an excellent problem solver who came up with creative approaches to many educational challenges. During her time as an academic manager she developed critical processes that enabled the college to track outcomes, improve efficiency, and better serve our students and the college as a whole. I could see that her educational journey was not over and encouraged her to take on (her doctorate degree). She did that while maintaining her responsibilities in the college at the same level of work.
"She is someone that I could count on to take on a job knowing that it would be done well and with the detail I would use to complete the job. She is sorely missed in the college, but we know there are many opportunities that are in store for her, and she may become Dean one day!"