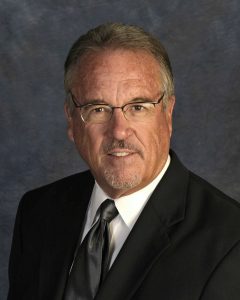 A longtime friend of Western University of Health Sciences and an independent-pharmacy advocate has retired from the WesternU Board of Trustees.
Mike Quick, who worked for AmerisourceBergen for 50 years, retired from the Board of Trustees in September 2017 after serving for more than 13 years.
Quick was instrumental in organizing the AmerisourceBergen/Good Neighbor Pharmacy Scholarship Golf Classic, which ran for 10 years and raised $500,000 for scholarships benefiting WesternU students interested in going into independent pharmacy. He also helped establish a $20,000 GNP Scholarship Endowment and facilitated AmerisourceBergen becoming one of the College of Pharmacy's strongest corporate sponsors.
"Mike Quick was a special friend to the College of Pharmacy, in part because of our commitment to the independent ownership track and our success in preparing students for leadership in independent community pharmacy," said College of Pharmacy Dean Daniel Robinson, PharmD. "As a member of the Board of Trustees, he was passionate about keeping student tuition in check so students have lower debt on graduation. Students across the University have benefitted from the extraordinary measures our board has taken to minimize tuition increases. We are all grateful for Mike's contributions."
Quick joined AmerisourceBergen, the parent company of Good Neighbor Pharmacy, in 1963. AmerisourceBergen is the leader in global pharmaceutical sourcing and distribution services, with more than 20,000 associates and more than 150 company-owned offices around the world.
Quick started in sales and rose to vice president of sales and marketing for the west region. He was a key member of the team that started Good Neighbor Pharmacy and the company's Home Health Care program. He retired in 2014 as the National Vice President for Retail.
"I figured it was time to move on and enjoy retirement and let someone else come in and take my place," Quick said about retiring from the board.
Prior to joining the board, Quick was invited to tour the WesternU campus in Pomona, and his first impression was that WesternU was a first-class organization, he said.
"It was a really pleasant experience to see the growth of the university and the way its prestige grew," Quick said.
Health care university boards often have members with backgrounds in academics and medicine, Quick said. He wanted to bring a different viewpoint to WesternU's board.
"What I thought I could do for the board, which I think I did, was bring a view from the outside, from industry," Quick said. "One of my main goals was to make sure students going to pharmacy school realized the importance of independent pharmacy. I think I accomplished that."
"Mike Quick has been a tremendous asset to the board," said WesternU Board of Trustees Chairman Richard Bond, DO, DrPH. "His contribution has enhanced the College of Pharmacy's ability to provide exposure of our students to private practice. He has leadership in fund raising and scholarships for pharmacy students. We will miss his input and guidance on the board."