Irvine Valley College and WesternU College of Pharmacy sign MOU
Western University of Health Sciences (WesternU) College of Pharmacy has signed a Memorandum of Understanding with Irvine Valley College (IVC) to create a pre-pharmacy pathway for students to become pharmacists.
The transfer admission guarantee agreement will provide IVC students with a guaranteed seat in the College of Pharmacy's Doctor of Pharmacy (PharmD) program upon completion of the prerequisites while maintaining a 3.0 or higher GPA.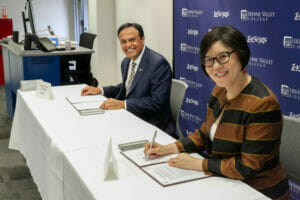 On May 9, 2023, College of Pharmacy Dean Sunil Prabhu, BPharm, PhD, signed the MOU with IVC Dean for Math & Sciences Lianna Zhao, MD. The gathering included IVC President Dr. John C. Hernandez, Vice President for Instruction Rick Miranda, Vice President for Student Services Dr. Martha MacDonald, and several faculty members, deans, and staff from both institutions.
"IVC is enthusiastic that this new partnership will provide a clear pathway to pharmacy careers," Dr. Hernandez said. "This collaboration strengthens workforce opportunities by offering students the chance to transfer directly from IVC to the pharmacy school at WesternU."
"We are honored to have IVC as a partner in our efforts to create the next generation of health care professionals in pharmacy," said Dean Prabhu. "IVC has the highest transfer rate in the state of California amongst all 116 community colleges wherein their students go on to achieve a bachelor's degree or higher. We look forward to a long, productive relationship with IVC to matriculate their students into our innovative 3.5-year PharmD program through the Community College Accelerated PharmD Pathway (CCAPP) program."
As part of its CCAPP program, the WesternU College of Pharmacy will reach out to and support IVC students and also connect with the high schools that feed into IVC, said COP Assistant Dean for External Relations Eric Gupta, PharmD.
WesternU emphasizes a team-oriented learning and practice environment. Students who enter the CCAPP program will have opportunities to learn how to provide quality patient care, conduct research with faculty, and provide community service through health fairs and student clubs. This is all part of the college motto to "Create. Care. Connect." students to each other, the faculty, their patients, and the community.
"At WesternU, we provide the environment for our student pharmacists to be the best pharmacists they can be," Dr. Gupta said. "We are thrilled to have IVC sending their students to us via the CCAPP pipeline, and we look forward to assisting them on their journey to become catalysts for better health in the communities they serve."