Health care documentary featuring WesternU administrators to premiere at Sedona Film Festival
Western University of Health Sciences faculty and administrators are featured in a documentary examining how to fix a broken health care system.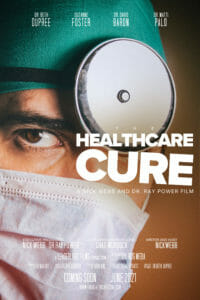 "The Healthcare Cure," a Nicholas Webb and Dr. Ray Power film produced and directed by Chad Murdock, is scheduled to premiere at the Sedona International Film Festival June 17, 2021. Nicholas Webb serves as WesternU's Chief Innovation Officer, and the film also features interviews with WesternU Senior Vice President and Provost David Baron, DO, MSEd, WesternU Center for Innovation Executive Director Miary Andriamiarisoa, EdD, and WesternU College of Osteopathic Medicine of the Pacific Associate Professor David Redding, DO '93.
In the film, Webb takes the audience on a journey to the optimistic future of health care. The film brings together patients and doctors from both the U.S. and Ireland to discuss the incredible importance of shifting from a "treatment centric" model to one of prevention and wellness. In order to make this big shift possible, patients and doctors need to demand that the "health care industrial machine" remove the wedge between their important relationship. Doctors need more time with patients, better mental health and nutrition resources. As a society, we need to make health care available to all populations. More importantly, we need to make health and wellness available to underserved populations, not just interventional care.
"As a health care technologist, it became very clear to me that technology was not the enabler of health care," Webb said. "It turns out that reestablishing the relationship between the doctor and the patient is the enabler."
Streaming tickets are available for the screening on June 17. Click here for more information.
Film website: www.thehealthcarecure.com
Film trailer:
Categories: