Philip Pumerantz, PhD, left behind a beautiful home and a good job in Chicago and uprooted his family to start the College of Osteopathic Medicine of the Pacific (COMP) in Pomona, California in 1977. COMP had no students, no faculty and no buildings. On the flight to Los Angeles, one thought ran through his mind.
"What the hell have I done?"
Thirty-eight years, nine new colleges and more than 12,000 graduates later, Dr. Pumerantz has his answer: more than anyone could have dreamed.
Dr. Pumerantz shared his thoughts and memories of the founding of COMP, now Western University of Health Sciences, in a special presentation, "Dr. Pumerantz Remembers," held on WesternU's Pomona campus May 28, 2015. He will retire in September as the second-longest currently serving university president in the United States.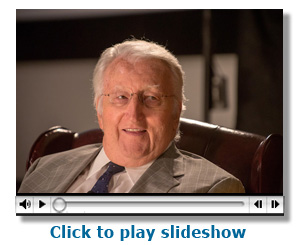 He officially started COMP the day after Labor Day in 1977, having been recruited by a group of osteopathic leaders to build a college of osteopathic medicine on the West Coast. His reaction to this challenge?
"One was fear. Could I really do this?" Pumerantz said. "The other was trust. If I came up with an idea, would the board trust me? If I said, 'Let's build a medical school that was based upon compassion and caring,' would they believe that?"
He questioned whether he had the strength and skill to accomplish the task, and if he could raise the support and funds required to get a medical school off the ground.
"I went to the one source of the answers to those questions," he said. "That's Harriet, my wife. She's the one who said, 'You can do it. If you feel it's doable, then I'll stand behind you.' Because of her support and her trust and faith in me, we went ahead and made the decision to come here."
He quickly pushed aside the doubts and fears he felt on that airplane flight.
"It's important if you're engaged in some kind of exercise like that, you've got to believe it," Pumerantz said. "I overcame my fear by believing what I was doing was the right thing."
The idea of educating historians, philosophers or physicians always has to be based on a point of view, a philosophy, a core value, Pumerantz said. He embraced osteopathic physicians' core values of caring and compassion, and imbued COMP with those values.
"I endeavored to build that into the curriculum, and more importantly to hire people who believed in fulfilling that," he said. "That humanistic point of view has got to be there. It's important that it's there, not only for the faculty and the students … Everybody has to believe in that core value."
WesternU has grown to more than 22 acres in downtown Pomona, and employs more than 1,200 staff and faculty. The university opened a Pacific Northwest campus for COMP in Lebanon, Oregon, that will celebrate its inaugural Commencement on June 5, 2015. Total WesternU enrollment is more than 3,900 students.
College of Allied Health Professions Dean Stephanie Bowlin, EdD, PA, served as interviewer and moderator for "Dr. Pumerantz Remembers." COMP alumnus Wadsworth H. Murad, DO '84, joined other graduates who called in to thank Dr. Pumerantz for influencing their lives.
"I think I speak on behalf all COMP and WesternU alumni. You have been an inspiration to us all. Your dreams have allowed many of us to achieve our dreams," Murad said. "You have and will continue to have an influence on the health care of many for generations to come, and we thank you for that."
WesternU is undergoing a search for its new president. Dr. Pumerantz, who will take on the role of President Emeritus, said he expects the new president to propel WesternU into the future while maintaining its humanistic focus.
"I think the next leader should bring some fresh new ideas and his or her own courage to the challenges of the future," Pumerantz said. "One of the things that is going to be very important is that the next president, whoever she or he is, will bring a fresh look to our philosophy. I'm counting on a president who brings that type of vitality to us."
What has he learned since that plane ride all those years ago?
"If you believe in something, stay with it. Don't let forces stop you. Don't let challenges back you up. Go after it," Pumerantz said. "Constantly explore who you are and where you're going to go. But don't be discouraged by the challenges that are out there."