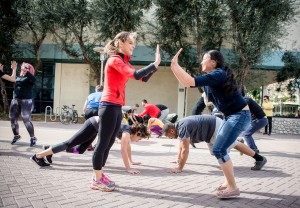 About 30 students, faculty and staff got their hearts pumping during a friendly athletic competition Friday, Jan. 22, 2016 as part of the launch of MEDWell at Western University of Health Sciences' Pomona, California campus.
Two teams jumped rope, bounced tennis balls into a basket, did jumping jacks and push-ups, and executed other feats of teamwork and skill during the College of Osteopathic Medicine of the Pacific's first MEDWell event, "Fitness Friday."
"I thought it was awesome," said second-year COMP student Stephen Line, who helped his team win by jumping rope 100 times.  "I think this type of activity is very much needed. Students spend way too much time indoors. We need to get the blood moving somehow."
MEDWell launched last year on WesternU's COMP-Northwest campus in Lebanon, Oregon as a way for students to get exercise and live healthier lives. COMP-Northwest created a Healthy Living and Wellness Initiative and the Lifestyle Medicine track, and provided students opportunities to exercise by installing a basketball hoop and treadmill desks.
MEDWell is a platform for COMP to help students and employees integrate diet, fitness and other healthy activities into their everyday lives, said second-year COMP student Karim Fahmy, who organized Friday's activities.
"It's whatever we make it," Fahmy said. "As health professions students we get so distracted by our studies, sitting down for extended hours at a time, locked away in the library. This makes it simple for students to get up, get out and do something fun."
New activities will be organized every week. MEDWell is a grassroots initiative that provides infrastructure for all of the activities students and faculty are organizing, said Marcel Fraix, DO, FAAPMR, chair of COMP's Department of Physical Medicine & Rehabilitation. Everyone on campus is invited to participate.
"Prevention and wellness is an important component of health care delivery," Fraix said. "We need to encourage those types of activities in our students so they become good role models for their patients. And it's also important to have a good time and spend time with each other outside of the classroom."
Click here to view a photo gallery on Facebook.