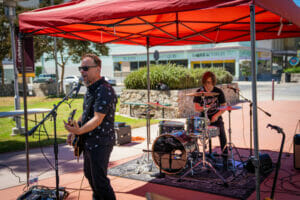 Western University of Health Sciences' Office of the Provost and the Student Government Association are sponsoring a series of festivals throughout the year for the enjoyment of students, alumni, faculty and staff.
The first "WesternU Fest on 2nd" event, an Arts and Music Festival held Sept. 21 on the Pomona Esplanade, celebrated the creativity and faculty, staff and students and provided an opportunity to bond as friends and colleagues. The first "WesternU Fest in the Northwest" will take place Oct. 3 in Lebanon, Oregon.
The Arts & Music Festival featured faculty, staff and students displaying their artistic endeavors, including photography, quilting and painting. WesternU Associate Provost for Clinical Affairs Robert Warren, DO '01, MBA, and his son, who form the band "From Here Now, performed live music. The Fest also featured a school supply drive to help local students.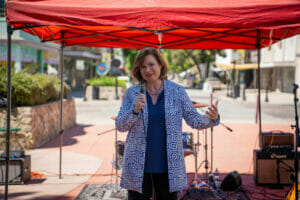 "What WesternU is really all about is our people, and you represent our people, our heart and soul. Keep up the great work," said WesternU Interim Provost and Chief Academic Officer Paula Crone, DO '92. "For the students in the audience, keep studying hard and remember that what you are doing makes a huge difference. For the rest of us, we're here to help support that mission and help support our students. Thanks for being part of this, our first 'Fest on 2nd Street, the first of many to come."
The Fest featured free food and entertainment and raffle prizes. SGA President and College of Podiatric Medicine student Donya Rabadi and COMP Director of Outreach and Strategic Partnerships Tom Fox, MSHS '18, served as co-masters of ceremonies.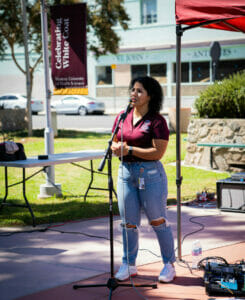 COVID-19 restricted in-person activities the past three years, so this event provides a good opportunity to meet each other, Rabadi said.
"This is a nice opportunity to get to know one another and make connections," she said. "We are all going to work together as health care professionals. If we don't know each other, how will we tell our patients to see one of our colleagues? It's nice to have that connection. It's good fun and a great break from studying."
College of Optometry Associate Professor Joshua Cameron, PhD Neuroscience, FAAO, displayed his 3-D printing and astronomy photography. He appreciated the chance to share his artistic passions and to see how his colleagues and WesternU students express themselves.
"I think it makes it feel like we're a campus again," Cameron said. "I like to see what other people do. We work with these people. We teach some of these students. It's nice to see the other side of these people. I like this idea of feeling like a community again."