LEBANON, Oregon – The eighth class of osteopathic medical students at Western University of Health Sciences College of Osteopathic Medicine of the Pacific-Northwest marked the start of their health care careers on Friday, receiving their white coats at the University's Convocation and White Coat Ceremony.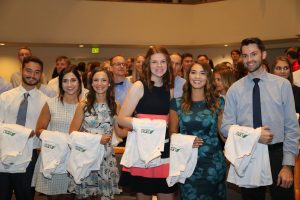 ‪The Oregon campus welcomed 107 students in the Class of 2022. The class is composed of 58 students from the Pacific-Northwest, with 38 of those calling Oregon home.
‪Rory King, DO '22, from Salem, Oregon, was excited to receive his white coat Friday morning. "I have been trying to do this for the last seven years, so I'm very happy to be at WesternU in Lebanon," King said. "I love that I have the opportunity to stay in Oregon, and I've already met some great people. I'm very happy with my choice."
‪Two students – Whitley Nelson and Austin Kleint – graduated high school from East Linn Christian Academy in Lebanon.
"I think Lebanon is a great community, and I am grateful to have grown up here," Nelson said. "I'm excited to be back not only to start my medical school education, but hopefully be able to work and serve this community while in medical school."
‪The Class of 2022 includes 60 women and 47 men, with an average age of 25. Thirteen students hold master's degrees; most have bachelor's degrees in science-related fields.
‪While many students are from the Northwest, they also call states across the country home. In addition to the U.S., students in the class were born in China, South Korea, Ukraine, Colombia, Ireland, Japan, and Greece. Some are fluent in Spanish, Korean, Cantonese, Mandarin, German, French, Russian, Italian, and other languages. Before joining COMP-Northwest, many students participated in humanitarian work in Austria, Bangladesh, South Africa, Ghana, Bali, Costa Rica, Uganda, Thailand, and Taiwan.
‪Marcus Pearson, DO '22, from Grand Forks, N.D., chose WesternU COMP-Northwest because of the medical school's atmosphere. "There's a reason I chose to come here. It's very family-oriented and I have a family, so it made my decision easier," he said. "‪I'm excited and I'm ready to get started. It has been a long road to get here, and I look forward to spending time with my classmates and the professors at the school."
‪The close-knit atmosphere at WesternU COMP-Northwest comes from the top. "I want to assure each and every one of you, we are all in this together," said ‪President Daniel R. Wilson, MD, PhD, as he opened the Convocation ceremony. "A family-like culture has ever been, and will forever be, a hallmark of WesternU. The staff and faculty of WesternU are committed to your success, and will do everything possible to help you on your journey through school and beyond."
‪Mirabelle Fernandes Paul, EdD, assistant dean of student affairs, gave the keynote address for the Convocation ceremony. She reminded students that the journey through medical school should be characterized as a marathon, not a sprint.
‪"I like the marathon metaphor for many reasons. Primarily because marathoners, unlike sprinters, are in competition with themselves, not with others," Fernandes Paul said. She passed along some "pearls of wisdom" to the students, advising them to work diligently to succeed in their studies, take time for themselves when they can, lean on their support systems, and acknowledge their priorities. "On days when you are tempted to give up, the greater cause will move you to get up, dust off your knees, and get back to your own run," Fernandes Paul said.
Before faculty members presented the new medical students with their white coats, John T. Pham, DO, vice dean of WesternU COMP-Northwest, spoke about the symbolism of the attire. "Many physicians have worn this coat, and wearing it is a privilege bestowed upon all those who earn a place in the healing arts," Pham said. "The white coat is a powerful symbol marking the transition from being a pre-med student to joining the long tradition of outstanding osteopathic physicians. The white coat is a symbol to you and to others that you have been invited to walk this path with many years of training ahead of you. It also symbolizes professionalism, caring, and the trust you must earn from your future patients."
After receiving their coats, the students received black physician bags sponsored through individual donations from the Osteopathic Physicians and Surgeons of Oregon (OPSO).
Paula M. Crone, DO '92, dean of the College of Osteopathic Medicine of the Pacific, challenged the new students to learn to practice medicine with patience, purpose and skill. "As your dean, I pass on to you your dean's challenge, and in four short years this challenge will become your dean's charge," Crone said. "I challenge you to always strive for excellence and keep your standards set at the highest of rungs. I challenge you to not only stand on the shoulders of the giants that come before you, but to become that giant yourself for those that follow after you. I challenge you to be extraordinary, to be exceptional, and to settle for nothing less."
‪The alumni welcome was given by Ginger Cupit, DO '17. Cupit is a second-year family medicine residence at Georgetown University-Providence Hospital. "One thing you must know: COMP-Northwest by itself is just a brick building," she said. "It's the people inside that make it what it is. So let's make this a legacy we can all be proud to be a part of."