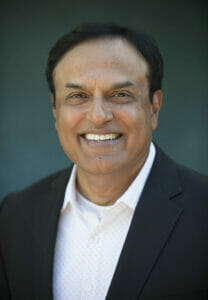 Western University of Health Sciences has named Sunil Prabhu, BPharm, PhD, FAACP, as the new dean of the College of Pharmacy, effective July 1, 2021.
He replaces Daniel C. Robinson, PharmD, FASHP, who stepped down as dean on June 30 after leading the College for 15 years. He will continue to serve the College of Pharmacy as a professor.
"Upon the recommendation of Dean Robinson, senior College leadership, and College faculty, we are pleased to announce Dr. Sunil Prabhu as the next dean of the College of Pharmacy," said WesternU Senior Vice President and Provost David Baron, DO, MSEd. "Dr. Prabhu's appointment allows the College of Pharmacy to continue the great work that has been accomplished by the current leadership team and his seamless transition into the role of dean comes with the overwhelming support of the faculty and staff within the College of Pharmacy."
Robinson requested an administrative reassignment from January through March 2021 to work on statewide initiatives to create a regulatory environment that maximizes the ability of pharmacists to serve Californians as health care providers. The result of this work is a draft Pharmacy Modernization Act.
"During my three-month reassignment, the obvious person to assume the acting dean's position was Dr. Prabhu, who has served as the number two administrator for the past 10 years," Dr. Robinson said. "Because Dr. Prabhu was being heavily recruited for dean positions nationally, and because of his demonstrated leadership and deep understanding of research initiatives as an NIH investigator, his excellent knowledge of the models of pharmacy practice, national and international relations, recruitment and admissions programs, academic affairs and student success initiatives, and College operations, I knew that he would be the perfect person to assume the dean's position as of July 1, 2021. Moreover, it would have been a devastating loss to the College if we were to lose him to another program. During challenging times, stable and visionary leadership are the keys to success."
Dr. Prabhu becomes the fourth dean of the College of Pharmacy, following Dean Robinson, Dean Emeritus Max D. Ray, MS, PharmD, and Founding Dean Harry Rosenberg, PharmD, PhD. Dr. Prabhu joined WesternU in 1996 as an assistant professor and a founding faculty member during the College of Pharmacy's inaugural year. In 2021, Dr. Prabhu celebrated his 25th anniversary at WesternU. He earned his Bachelor of Pharmacy degree from the Birla Institute of Technology, India and his PhD in Pharmaceutics from West Virginia University.
Dr. Prabhu has held several leadership positions within the College through the years, most recently serving as Executive Associate Dean. In 2007, Dr. Prabhu supported the diversity initiatives at the College, helping to draft the first written document on enhancement of diversity. As Assistant Dean of Enrollment Management, he assisted in developing holistic admissions processes to attract, enroll and retain underrepresented minority (URM) students.
His teaching responsibilities have been mainly with the pharmaceutics curriculum, where he has also established a non-sterile compounding laboratory experience for student pharmacists for many years. His research interests, supported by NIH funding, have been in the area of development of novel drug delivery systems, application of nanotechnology for controlled release system design, cancer chemoprevention, and targeted therapy.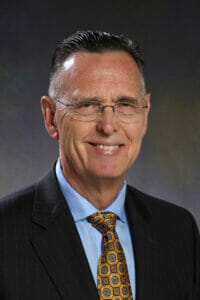 When asked to comment about Dean Robinson's contributions to the College, Dr. Prabhu said his contributions have been immense, including: establishing the first diversity initiative to attract underrepresented students, spearheading an award-winning College publication, envisioning and building the state-of-the-art classrooms and breakout rooms, lending a strong voice in the university community on behalf of the College and creating a cohesive, team oriented faculty who care about student success, and his valuable efforts in drafting the language to get pharmacists recognized as providers in California via SB 493.
"However, in my personal opinion, the biggest contribution he has made is in the area of mentorship. Many of us within the College have directly benefited from his commitment to this aspect," Dr. Prabhu said. "By giving me an opportunity early to grow as an administrator, and believing in my abilities to accomplish complex tasks, Dean Robinson has guided me to where I am today. While I realize that I have big shoes to fill, I fully intend to continue his legacy of cultivating the next generation of leaders for the College and beyond.
"I feel proud and fortunate to be able to lead this College that I love and would not mind finishing my career at an institution that has given me so much in return for my efforts," Dr. Prabhu added. "As its dean, I will strive to further strengthen the strong foundation we have built in this College together with the support of all the stakeholders. My vision for the College can be summarized in three words: Stability, Visibility and Innovation. I will work hard to keep our education and research endeavors safe and true to this vision."
Categories: