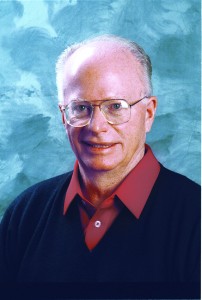 John T. McGwire, DDS, whose association with Western University of Health Sciences dates back to its founding in 1977, has retired from the WesternU Board of Trustees.
McGwire served on the board since Aug. 10, 1991. In a letter to Board of Trustees Chairman Richard Bond, DO, he encouraged the university to find a replacement who lives in the community and has the energy, commitment and devotion to support the university. He also praised his colleagues for making WesternU a world-class health education institution.
"As the College of Osteopathic Medicine of the Pacific fought to gain its footing in Southern California in its early days, John was one of our best and brightest champions," said Philip Pumerantz, PhD, WesternU's founding president and now its president emeritus. "His commitment to the College, and for the past 20 years to the University it became, was never anything but robust and dependable. COMP and WesternU could not have asked for a finer board member, ambassador, advocate and friend."
McGwire remembered introducing himself to Dr. Pumerantz shortly after he started the College of Osteopathic Medicine of the Pacific in a 1998 Daily Bulletin article by Debbie Council.
"Being in the health care field as a dentist, I realized the value of having a first rate college in the area for educating humanist care givers," McGwire said.
In that same story, McGwire is lauded for being kind, courteous, gentle, diligent and persistent. He received WesternU's 1998 Humanitarian of the Year Award.
McGwire is a past president of Pomona Rotary and the Pomona Chamber of Commerce and has been involved in many organizations, including the Pomona Valley Assistance League Dental Clinic, the American Dental Association and Tri-County Dental Society. He and his wife, Ginger, raised five sons, including former Major League Baseball slugger Mark McGwire.
Categories: