Dr. Alissa Craft named WesternU Graduate College of Biomedical Sciences Interim Dean
July 25, 2021
Read 2 mins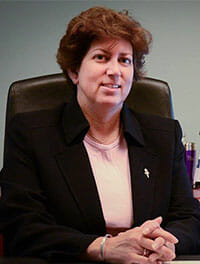 Western University of Health Sciences has named Alissa Craft, DO, MBA, as the interim dean of the Graduate College of Biomedical Sciences (GCBS).
GCBS supports the mission of WesternU by training future researchers and future health care professionals. Most importantly, we encourage critical thinking and intellectual curiosity through our graduate programs, Dr. Craft said.
"I am honored to serve WesternU and GCBS," she said. "This is a time of transition for our University and, with that, comes an opportunity for GCBS to truly define our role at WesternU in supporting student research education and the development of new research."
Craft replaces Guru Betageri, PhD, who served as interim dean for two years. Betageri has transitioned back into a faculty role, where he will teach in the Master of Science in Biomedical Sciences (MSBS) program and complete his active research projects.
"Dr. Alissa Craft brings significant experience in teaching and administration, and she will assist us in transforming GCBS into a home for researchers and research-related degree programs at both the masters and doctoral degree levels," said WesternU Senior Vice President and Provost David Baron, DO, MSEd.
Craft earned her Doctor of Osteopathic Medicine degree from A.T. Still University of Health Sciences Kirksville College of Osteopathic Medicine. She also earned an MBA and is working on her Doctor of Education degree. She is Board Certified in Pediatrics and Neonatal Medicine.
She has extensive leadership experience, serving as the Chair of Pediatrics at Midwestern University Arizona College of Osteopathic Medicine (AZCOM), Vice Chair of Pediatrics at WesternU's College of Osteopathic Medicine of the Pacific (COMP), Associate Dean for New York Institute of Technology College of Osteopathic Medicine (NYITCOM), and Vice President of Accreditation for the American Osteopathic Association. She most recently served as WesternU's Research Development Advisor.
GCBS is committed to developing master's and doctoral degrees in research-related fields with the input of faculty, Craft said.
"We hope to support these highly-specialized programs through the development of courses, certificates, and degree programs in an online environment to benefit our professional students and alumni," Craft said. "Our first priority is the development of online education programs to support our current students and alumni. That is being coordinated with the Online Education Division of the Office of the Provost. We will then anticipate submitting the necessary accreditation documents for approval to grant doctoral degrees. Using the New Program Development process, we will then work to begin the degree programs that will best meet the needs of the University."