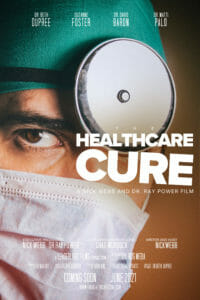 "The Healthcare Cure," a Nicholas Webb and Dr. Ray Power film produced and directed by Chad Murdock, received an Audience Choice Award for "Most Impactful Film" at the Sedona International Film Festival.
The Audience Choice Awards were announced on June 20, 2021. The film premiered at the Sedona International Film Festival on June 17, 2021 to a sold-out crowd. Nicholas Webb serves as WesternU's Chief Innovation Officer, and the film also features interviews with WesternU Senior Vice President and Provost David Baron, DO, MSEd, WesternU Center for Innovation Executive Director Miary Andriamiarisoa, EdD, and WesternU College of Osteopathic Medicine of the Pacific Associate Professor David Redding, DO '93.
"We are so delighted and honored to receive this award – it is thanks to all the glorious talents of both sides of the camera, on and off screen," Webb said. "This is such an incredible moment, and I thank each and every one of you for your support."
For additional information, please visit "The Healthcare Cure" website at www.thehealthcarecure.com.