Deputy Commissioner from India visits Western Diabetes Institute at WesternU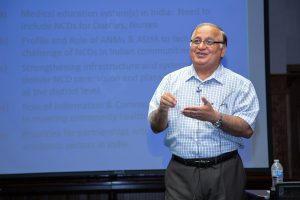 India has the second highest number of diabetics in the world – nearly 69 million people – trailing only China. More than 1 million deaths are attributed to diabetes there. Such a widespread problem requires collaboration and a multi-disciplinary approach.
Damodar Bachani, MD, MPHM, Deputy Commissioner of Non-Communicable Diseases (NCD) Ministry of Health & Family Welfare, Government of India, visited the Western Diabetes Institute (WDI) at Western University of Health Sciences July 6-7, 2016 at the invitation of WDI Founder and Executive Director Andrew S. Pumerantz, DO, FACP.
The two physicians met earlier this year, when both were guest speakers at a World Diabetes Day congress held in New Delhi. WDI is partnered with Jodhpur School of Public Health at Maulana Azad University (JSPH-MAU) in Jodhpur, Rajasthan, India on a Tata Trusts-funded mHealth (mobile health) diabetes screening project there. With Tata Trusts-JSPH-MAU support, Dr. Bachani visited WesternU to observe and learn more about WDI's cross-disciplinary team approach to health care.
The care model WDI implemented three-and-a-half years ago was heavily influenced by Dr. Pumerantz's clinical experience managing HIV disease in the early 1990s at the Yale AIDS Program, he said. Diabetes and HIV oddly share common challenges to early and comprehensive diagnosis and team-based, longitudinal care delivery. Coincidentally, Dr. Bachani also spent that same period of time addressing the impact of the HIV pandemic, along with other communicable diseases, on Indian public health.
"Together, he and I share a common history of applying a 'needs-based approach' to global health threats. We quite naturally see the thread of lessons learned extending from HIV in the late 20th century to diabetes and other chronic disease threats in the early- to mid-21st century," Pumerantz said. "WDI and WesternU offer visitors like Dr. Bachani and others tangible evidence of how to implement an innovative, value-based, integrated diabetes care model, which I believe is essentially a 'scarce resource' that warrants global dispersion and scale-up in order to make the greatest impact on society.
"For WDI and WesternU to partner with the Indian Ministry of Health, Tata Trust-JSPH-MAU, and other local and regional partners is an exciting opportunity," added Pumerantz, who is a Visiting Clinical Professor of Global Health at JSPH-MAU. "There is a real prospect that our innovative model could be both a successful and significant solution for the large and growing threat of unmet health care needs. In turn, WesternU's community of learners could only benefit."
The most challenging aspect of battling diabetes in India is that more than half of patients don't know they are diabetics, Bachani said. The government of India started a diabetes screening program that screened millions of people, identifying thousands as diabetic.
But those who are diagnosed with diabetes don't necessarily follow through with recommended treatment and lifestyle changes. For instance, a rural laborer does not want to rest, because he depends on daily earnings.
"Their perception is totally different," Bachani said. "They don't believe they are sick because they don't have symptoms. This is our challenge. How can we do awareness building, telling them about the consequences of untreated, uncontrolled diabetes?"
The most productive population group, ages 35 to 55, is the hardest hit by diabetes.
"We are not trying to see this in India as a health problem, but more so as a social and developmental problem and an economic burden," Bachani said.
In 2010, India implemented a comprehensive national public health program for the prevention and control of cancer, diabetes, cardiovascular disease and stroke in 100 selected districts across 21 states. The aim is to expand and cover all districts in the country in a phased manner by 2017. The objectives include prevention through behavior and lifestyle changes, early diagnosis and management of common NCDs, and training programs for health care providers on how to identify and control NCDs.
The main purpose of coming to WDI and WesternU was to understand WDI's model for management of diabetes in an integrated manner through a multidisciplinary approach, Bachani said. This includes counseling, nutritional advice, physical activity, eye care, foot care, prescribing medicine, dental care and how to take medicines.
"I found that this is the correct approach for giving holistic care to diabetics. So I wanted to see the model and discuss with each of the team members their role," Bachani said. "I will see patient care being rendered – how the patient flows through the system, the time taken and the costs. So the idea is to use a similar model, if not the same model, in India. We would like to introduce this model on a pilot basis in selected places. Based on the response, we will think about further expansion."
Categories: