In an effort to conserve the giant panda population, a College of Veterinary Medicine (CVM) professor and alumna recently provided training and set up research projects in China that they hope will help save other endangered species.
CVM Associate Professor of Physiology David Kersey, PhD, was asked to return to China by the Conservation and Research Center for the Giant Panda (CCRCGP) Dujiangyan Base (DJY) and the Chengdu Research Base of Giant Panda Breading (Chengdu Base). He has been providing training in China on giant panda hormone monitoring and breeding for more than a decade.
"I have always envisioned my role as helping out the breeding programs so that there would be a pool for reintroduction," Kersey said. "The big picture is (that) captive breeding of endangered or threatened species is only part of the equation. The other is ensuring that there is habitat for animals that go back from where they have been extricated."
For the visit, Kersey invited 2015 CVM graduate Jessica Coote, DVM, who had worked in his lab as a summer intern in 2013 conducting a study to validate endocrine monitoring methods for use in the snow leopard.
"I knew Jessica would be a great fit to assist me in China, because when I had her as an intern she did a wonderful job and worked diligently," Kersey said.
Over an 11-day span — May 22 to June 2, 2017 — Kersey and Coote provided follow-up training on endocrine monitoring techniques and set up a study to measure hormones in the feces of giant pandas in the wild at CCRCGP.
Studying hormones in the wild means dealing with feces. Kersey, who's collected fresh feces from captive giant pandas for past research studies, faced a challenge: developing a method to collect samples from the wild while factoring in how environmental factors like humidity, rain and temperature would affect hormone changes.
He and Coote also provided training on hormone monitoring techniques, set up a study to assess the hormone changes associated with parenthood and breeding, and discussed future projects at Chengdu Base.
Pandas International (PI) helped fund the trip to support giant panda protection in China.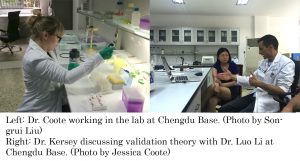 Coote provided follow-up training, assisted in setting up new research projects, and conducted wet labs to demonstrate the practical application of the theoretical framework contained in Kersey's lectures.
Coote – who used personal vacation time from her job as a Supervisory Port Veterinary Medical Officer for the USDA at the Los Angeles Animal Import Center — said the trip was personally and professionally rewarding.
"The ability to see knowledge and skills applied into Dr. Kersey's research firsthand was career-altering," she said. "I witnessed the amazing outcomes that can happen from dedication involved in the development and performance of research. Dr. Kersey is pivotal in the development of current giant panda breeding techniques.
"I enjoyed collaborating with professionals in a foreign country, and I am grateful to WesternU CVM for strengthening my understanding of research and cultural competence."