Connett is first from WesternU appointed to ACOFP Board of Governors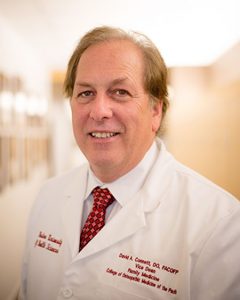 College of Osteopathic Medicine of the Pacific (COMP) Vice Dean David Connett, DO '84, will become the first Western University of Health Sciences College of Osteopathic Medicine of the Pacific faculty member to be inducted into the American College of Osteopathic Family Physicians (ACOFP) Board of Governors.
Connett will be inducted during a ceremony on March 22, 2018, during the ACOFP 55th Annual Convention & Scientific Seminars at the JW Marriott Hotel in Austin, Texas.
Connett is Immediate Past President of ACOFP of California, which is the state society to the national ACOFP association. He will represent the western United States in his new role on the board.
"This is a great honor and I thank COMP Dean Paula Crone (DO '92) for allowing me to pursue these sorts of activities," Connett said. "I think it helps represent WesternU on a national front and on a stage with primary care as the leading organization in the American Osteopathic Association (AOA)."
Connett said he's joining the board to help make changes to how national board exams are taken for family medicine practice and to help transition the AOA and Accreditation Council for Graduate Medical Education (ACGME) into a single accreditation system.
College of Dental Medicine (CDM) Associate Dean of Simulation, Immersion and Digital Learning Environments Robert Hasel, DDS, introduced Connett to a high-powered, adaptive learning software from RealizeIt. CDM has been using the platform to teach students in a flipped classroom environment, and Connett was inspired to create and program an intellectual learning engine for the board certification process. Now it's part of his initiative for ACOFP.
ACOFP is a professional medical association that represents more than 22,000 practicing osteopathic family physicians, residents and students throughout the U.S., according to its website.
ACOFP counts among its membership ranks many faculty in the COMP Department of Family Medicine, which is chaired by Dat Trinh, DO '03, MSHPE '03.  Click here to view the list of faculty in the department.
Connett said former COMP Dean Donald Krpan, DO, was an inspiration to him, helping guide him into and through medical school and medical politics.
Several leaders from the ACOFP of California were instrumental in helping Connett earn an appointment to the Board of Governors: President Mark Shiu, DO; Treasurer/Convention Chair Steven H. Barag, DO; Board Member at Large Steven D. Kamajian, DO; and Emeritus Board Member Martin Jay Porcelli, DO. In addition, ACOFP Vice President Robert C. DeLuca, DO, was influential with his counsel, Connett said.