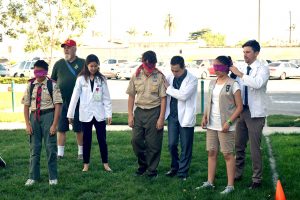 Boy Scouts recently earned Disabilities Awareness badges thanks to a service-learning project planned by College of Osteopathic Medicine of the Pacific (COMP) students.
COMP students teamed up with WesternU Harris Family Center for Disability and Health Policy Director Brenda Premo and Dayle McIntosh Center Executive Director Paula Margeson to provide real stories, experiences, and insight into having a disability.
Dayle McIntosh Center is an independent living center in Orange County. Margeson, who is blind, spoke about living with a disability and about certain devices used by a blind person. Premo, who was born with albinism, spoke too.
During Margeson's presentation, she called upon Ezra Rodriguez, 16, a Boy Scout for about four years with Unit (Troop) 724 of West Covina, to help show the proper way to help guide a blind person.
Rodriguez said it's great that WesternU students have connected with his troop to help earn merit badges.
"For us Scouts, it's important to learn about difficulties that we may or may not have in life and learning about other people who live with difficulties and burdens but may not see it as that," Rodriguez said, who has an interest in becoming a surgeon. "Plus, this is a great experience for both WesternU students and our troop, by bonding, learning and providing a relationship that is like family."
COMP student David Pilkington, DO '20, has been a student leader for the Scouts Service Learning project this academic year. He was a Boy Scout and completed his Eagle Scout rank.
He said the goal of the program is to expand the scope of the merit badge courses for First Aid and Medicine to cover the prerequisites for Boy Scouts and Girl Scout Cadets for larger Saturday events on campus, and hopefully have a "Women in Health Care" panel for Girl Scouts to learn how to succeed in the health sector.
"Scouting focuses on building leadership and accountability to one's community and nation," Pilkington said. "I grew as a man and citizen through the program, and want to provide the same experience to current and future Scouts. Working with Boy Scouts and Venture Scouts – young men and women who graduated from Scouting and want to continue as leaders – for the past year, I have seen their enthusiasm, desire to learn, and empathy."
The Scouts Service Learning project started in 2015. COMP Director of Outreach & Strategic Partnership Thomas A. Fox was inspired to start the program after rallying COMP students to volunteer at a table during the College of Veterinary Medicine (CVM) Open House, where Boy Scouts and Girls Scouts from Southern California can earn a Veterinary Medicine merit badge.
COMP students Nic Tan and Elaine Yu, both DO '18, were instrumental in helping Fox get the service-learning project off the ground. In the second year, COMP student Aaron Lee, DO '19, who completed his Eagle Scout rank, became student leader of the program and built upon a foundation, helping with the Medicine badge and creating a standardized patient encounter experience for the Scouts.
Currently, the Scout Service Learning project provides a chance for Scouts to earn merit badges in medicine, first aid and disabilities awareness but Fox sees opportunities for it to expand across the University.
"I would love to see this become a university-wide initiative where we can help Scouts earn as many badges as possible, and build upon the relationship with Western University of Health Sciences," Fox said. "I thought it would be a fun way to work with the community and inspire future physicians and health care providers."
Tan, who grew up in Long Beach, California, has been in Scouts since he was 5. He completed his Eagle Scout project in 2007, which was a public health awareness project for the Long Beach Public Health Department.
"When Tom approached me to assist him, I was very excited to see how this project would come to fruition," Tan said. "One of the most inspiring things about being a Boy Scout was being exposed to all the amazing career fields that existed in the world. As a Scout, I distinctly remember the awe and wonder I felt while doing a series of merit badges at 'Sea Base Boy Scout Camp' in Long Beach. The exposure we got in oceanography, marine life, and various other water related activities inspired me to pursue a career as a marine biologist at the time. It was an exhilarating feeling to have a sense of purpose and a concrete goal to work towards as a young man, and I feel that the WesternU scouting program will fill that role for many young adults in a similar way."