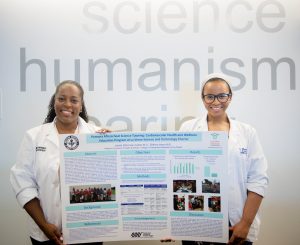 Third-year College of Osteopathic Medicine of the Pacific students Jamila Rahmaan-Colder, MSMS '14 and Eftikhar Akam, MSMS '15, are among 10 California medical students to earn California Community Service-Learning Program (CCSLP) scholarships this year. 
The California Wellness Foundation partnered with National Medical Fellowships to create service-learning opportunities. The scholarship program is designed to increase the number of qualified medical providers who make a commitment to improving access to high-quality health care in medically underserved communities in California.
The CCSLP program provides a $5,000 scholarship, which allows scholars to engage in 200 hours of self-directed community service, develop critical skills, and join an active collegial network, all while enriching their resumes with inimitable experiences, according to the National Medical Fellowship website.
Rahmaan-Colder and Akam created an afterschool cardiovascular health and wellness education program for sixth-graders at La Verne Science and Technology Charter School (LVSTC) in Pomona. The two taught heart health through lifestyle modification, including mindfulness, diet and exercise. They also led workshops focused on heart dissection, arteriosclerosis, diabetes, hypertension and strokes, and helped the sixth-graders host a special "walk to school day" where students and parents came to school early, walked around the track, and earned raffle prizes.
The sixth-graders also led workshops, teaching lower grades what they learned.
"Our goal was to see if a simple intervention could lead to an impact on the cardiovascular health disparity in Latino and African-American communities in Pomona," Rahmaan-Colder said. "We believe that this project was successful and that we can use this model, with some modifications, at other schools to continue to bridge health care disparity gaps."
Mentors for the project were WesternU Associate Vice Provost of Academic Development Elizabeth Rega, PhD, and LVSTC Principal Dolores Lobaina. Click here to learn more about the scholarship.